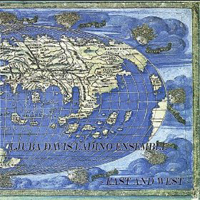 Ljuba Davis Ladino Ensemble
East and West (self-released, 2012)
When the Sephardim, the Jews of Spain, were expelled from their homeland following the reconquista of 1492, they had long since built musical traditions both sacred and secular. So it happened that the particular style of music they created, Ladino, traveled first in the one direction noted in this album's title and eventually the other.
Ljuba Davis, a nurse by profession and a mother of seven who did enough singing on the side to make her a renowned live performer during the time that traditional Jewish music was recognized as one element of the American folk scene, has now brought her experienced pipes into the recording studio. Accompanying her are a Greek bouzouki player, an Israeli guitarist, a Moroccan oud player, an Egyptian percussionist and a bassist from Brooklyn -acoustic players all but not all Jewish- to make an album of the Ladino songs that were and are close to Davis' heart. The resulting music is equal measures of Moorish splendor, resounding Jewish culture and sultry rhythms that couldn't have come from anywhere but the Iberian Peninsula.
Davis' cantor-hued vocals, a mystical delight of their own after so many years of honing, caress comings and goings of musical passages that alternately dance and slow into meditative ecstasy. The duality of the album title is furthered by the fact that it's 2-disc set, the first comprised of the songs with lead vocals gloriously intact and the second instrumental/backing vocal versions that show how seamlessly tight the players are.
Intricate, absorbing and at times genuinely thrilling, East and West is a vital revisiting of a key chapter in Spain's musical history.
Buy the double CD from ldlensemble.com
Listen to samples and buy MP3s: East and West.
Author:
Tom Orr
Tom Orr is a California-based writer whose talent and mental stability are of an equally questionable nature. His hobbies include ignoring trends, striking dramatic poses in front of his ever-tolerant wife and watching helplessly as his kids surpass him in all desirable traits.