One of the traditional instruments featured at the Førde Traditional and World Music Festival, held this year July 5-8 in Førde, Norway, is the gayageum from Korea. I was fortunate to catch up with Kyungso Park in Seoul during a live performance of her fusion band, Oriental Express. The charming and talented musician joins us for this exclusive interview where she shares her views on the instrument's musical significance, her range of collaborations, new albums, and vision for preserving traditional Korean music.
What set you off on your musical journey?
As a traditional musical instrument player, I deeply feel that the tradition is not stuck to some specific period in time but just evolving with us as time goes by. I feel that "today will be the history of tomorrow." Frankly speaking, I am a more future oriented musician than a traditional musical instrument player. My music focuses on our world and our surroundings now as well as for tomorrow. My musical vision is totally the same as my life vision.
Additionally, one of my little dreams is that gayageum should not be seen only as an exotic Asian musical instrument. In my experiences, gayageum has many abilities to be a truly world-wide musical instrument.
Tell us more about the gayageum.
The Gayageum is the best-known Korean traditional musical instrument. It is a string instrument with 12 silk strings. The gayageum is supposed to have been developed from the third century onwards. The original shape of gayageum is still used till now in Korean traditional music. From the 19th century, various kinds of gayageum have started to be developed such as sanjo gayageum for sanjo music, and greater numbers of string gayageum such as 18, 21, 25 strings for modern music. All these kinds of gayageum are now used in various genres these days.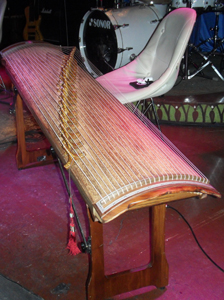 There are many related Asian string instruments such as Chinese guzheng, Japanese koto, Korean gayageum, Mongolian yatga, and Vietnamese đàn tranh. Among them, gayageum makes a sound by the finger itself and natural silk strings, not with other tools such as artificial nail or guitar's pick. Gayageum is the only instrument that makes a really dynamic microtonal sound with the left hand. Thus, gayageum's sound is really close to human sound and is natural. Its sound may not be fantastic to those who are adapted to Western harmonic music, but it has a calm sound and smooth dynamic. I play gayageum with Korean traditional percussion, the two-sided drum named janggu. Janggu is featured in every traditional song, in every kind of traditional genre.
Who would you say are the leading influences in your musical career?
There are many many big musicians who have influenced me such as J.S Bach, Jukpa Kim (gayageum master in Korea), and many teachers who taught me before and teach me now. I am mostly influenced by my colleagues, friends, and family and, additionally, influenced by me myself! I have had good fortune and kindly advice in my career. I am a really lucky musician to have all these influences, and always keep this in mind. I thank all who have influenced me.
My family is a musical family, in genres such as pop, Western classical and Korean traditional music. They have influenced me always to be a good musician who has diverse perspectives. I am really happy when my family gives me compliments.
What can we expect to hear at your upcoming performance?
Although I mostly play modern and avant-garde music in Korea, in Førde, I will play sanjo, my solos strongly based on Korean traditional solo music of the late 19th century. It is different from Western-based music, you can feel very fresh, calm and dynamic — like the sun rising from the deep blue sky, and like the deep and calm ocean's waves. I played this traditional music, sanjo, for over 20 years. If you listen to my sanjo, you will truly see my whole life.
How do you blend different musical influences and genres?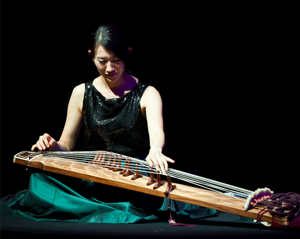 I belong to many kinds of different musical group. One is "Oriental Express"- a fusion music group based on smooth jazz, "Gayageum Ensemble AURA"- a contemporary music ensemble consisting of three gayageum players, and "Makrophonia Project", an avant-garde improvisation music group consisting of Korean and Austrian musicians. I play and have learned Korean traditional music. All these totally different careers make my music diverse. I do not really push my music, it has to be blended and performed with a clear and fully open mind to all musical worlds.
What is the profile of some of the artists you perform with?
In every concert, I perform with one or two musicians for a few songs in the whole set, usually percussionists who change with every concert. It is natural to the Korean traditional music scene because Korean traditional music is based on improvisation like jazz or blues. In Førde, I will play with the percussionist Donggug Kim, who is a promising young percussionist in Korea. With his accompaniment I can make a more rhythmical and dynamic sound.
How would you describe your musical journey?
In addition to solo and group performances, I am active in all kinds of Korean music such as Korean pop music, movie, musical and TV drama show as a performer. Fortunately, this exposure makes me more open minded to all genres. So I can be more challenging and more experimental in my music. I think my music has various characters like a chameleon!
I have released three single albums as a solo player and four albums with my group, Oriental Express. My first single album "Cosmo Breeze"(2008) is an electronic house project consisted with computer sound and electronic instruments. The second album, "Cosmo Breeze 2: Breath"(2010), has tranquil contemporary new-age songs consisting of only calm gayageum solo sounds. The third album, "Fragments Beyond"(2010), is also a calm gayageum piece, which I composed with some electronic effects.
With all these the albums, I sought for the well-matched sound of 21st century gayageum music. I have experimented in every album to find my own sound. And now I seek for the new styled tradition, solo gayageum sound, as a nature based instrument. Simply speaking, Korean unplugged gayageum!

What is your vision of what music can do in this day and age?
I want to focus on communication through the music. For me, music is one of highest levels of entities, which contains more social value than our community may recognize – because among the all genres of arts, music is the most personalized and sensitive. Thus, music is most effective to convey emotions and true feelings. In the music world, we cannot lie to each other. For this reason, I feel sometimes that music is more effective in communication than language.
To communicate in languages seems to be quite difficult and sometimes it can cause potential conflicts and misunderstanding or misinterpretations. Whereas with music and sounds, we may express the truth of our world and social features. The most important feature in our society is communication, so music might be good for constituting society today. Of course, I do not think that music or any of the arts might totally solve our troubles of the world in social or political terms, but with music we can communicate with more truthfulness and be better people and moreover, we could live in better world.
What new album or video are you working on now?
I am working on next new album, which I commenced last year. It is from both studio and concert performances. It will be about gayageum's natural sound as well as improvised ones. But this album is still under the experimental process to find my own music. This album will be released this year, hopefully before the cold winter!
What have been your previous highlights in playing across Europe?
Last April, I played whole sanjo (53 minutes, most well known Korean traditional solo instrumental music) at the RASA centre in the Netherlands. During the show, I could feel the audience concentrating on my playing and I felt some chemical connection had arisen between the audience and myself. So I could feel really comfortable during the concert and played quiet well. After the concert, the audience gave a standing ovation and I heard that the concert got a good review with 4 stars point of 5 stars from the Dutch media.
Additionally, before that RASA concert, I had a tour with the Makrophonia Project. Our project was premiered at the Imago Dei Festival at Krems, Austria, and we then went on tour around Austria and north Italy. That project was so beautiful because our music was so definitely new in style, and our concerts were all successful. Austrian and Korean musicians were collaborating with each other and exchanging our traditions and culture. It was a fabulous concert tour in Europe, and I look forward to more!

What is your message to your audiences?
With my listeners I just want to talk about nature and our lives. I do not want to push them to be entertained by my music but recommend that they enjoy it and feel free in my music and feel able to communicate with me. I hope people can realize that communication is the basic process of all of society. And I want to make a peaceful and beautiful world together with the listeners. This musical communication is not for individuals only but for all of us together.
Do you also teach workshops for students and other musicians?
Yes. I teach students at some universities. I teach basic theories about Korean traditional music. I love to teach little students and communicate with them because I can see the present time and some future world where they will have grown up, it is really exciting.
And I do workshop with many composers who want to make gayageum music. I think this process is really important for the future of gayageum music and Korean music in general.
Author:
Madanmohan Rao
Madanmohan Rao is an author and media consultant from Bangalore, and global correspondent for world music and jazz for World Music Central and Jazzuality. He has written over 15 books on media, management and culture, and is research director for YourStory Media. Madan was formerly World Music Editor at Rave magazine and RJ at WorldSpace, and can be followed on Twitter at @MadanRao.