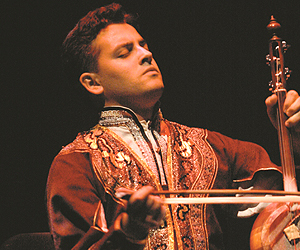 The Smithsonian Folklife Festival will be presenting two concerts of Azerbaijani music this year. The festival takes place on the National Mall in Washington, D.C., June 27-July 1 and July 4-8, 2012.The concerts will showcase Azerbaijani mugham music by virtuosos Imamyar Hasanov and Pezhham Akhavass in the Justin S. Morrill Performing Arts Center on the National Mall. The performances are presented by the Smithsonian Center for Folklife and Cultural Heritage in collaboration with the Karabakh Foundation.
The concert on June 28th is titled "Music from the Land of Fire" and includes Azerbaijani songs selected to convey the spirit of Azerbaijani folk music. On July 5th, the program will feature "Undiscovered Treasure: The Kamancha of Azerbaijan."The concert spotlights the ancient stringed instrument that, along with the lute-like tar, lends so much of Azerbaijani music its special lyrical sound. Accompanying Imamyar Hasanov is percussionist Pezhham Akhavass, modern-day master of the tombak, a Persian goblet drum.
Throughout the Festival visitors will be able to purchase authentic Azerbaijani food and drink from the Festival's Azerbaijani food tent.
Attendance at the Festival is free of charge.
For a full schedule of the Folklife Festival days, hours, and events, visit http://www.festival.si.edu
Author:
World Music Central News Department
World music news from the editors at World Music Central