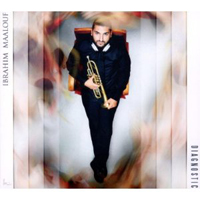 Ibrahim Maalouf
Diagnostic (M'ister Productions, 2012)
Just for a moment forget everything you know, or think you know, about the trumpet or acceptable genres in which the trumpet is used. You'll need that suspension of disbelief for Ibrahim Maalouf's latest Diagnostic. With the recordings Diachronism and Diasporas to his credit, composer and trumpeter Ibrahim Maalouf reaches deep into his bag of trumpet magic and conjures up one savagely good track after another on Diagnostic. The result is intelligent, dynamic and thoroughly potent. Born in Lebanon and currently based in France, Mr. Maalouf brews up a sound that's sharply unique, blending and mixing jazz, Middle Eastern, blues, Brazilian, Afro-Cuban and even some metal to coax out a potion that's highly addictive.
Mr. Maalouf explains, "Since it's my music, I choose what I think is beautiful. For example, I love Balkan trumpets, and I really love Brazilian batucadas, and when you put a Brazilian rhythm under trumpets playing an Arab melody with a Balkan feel, I think it sounds really good. So I did it."
And, it is indeed good. Opening with an elegantly spare piano piece entitled "Lily [is 2], Mr. Maalouf lulls the listener before launching directly into the strikingly sultry "Will Soon Be a Woman" with it flaring trumpet lines and gypsy violin. "Intro" and "Maeva in the Wonderland" are two stunning tracks that pull out the stops with the all-female, Brazilian-style batucada ensemble Zalindê kicking up the percussion on the piece and turning it into something truly spectacular as it dips and dives into Arab, South American and Cuban influences.
Fans get some surprises with tracks like the wicked blues riff inspired "Never Serious" and the metal guitar on "We'll Always Care About You." Mr. Maalouf weaves his trumpet lines in seamlessly, making it as much as a surprise and delight as the compositions themselves.
Mr. Maalouf explains his trumpet playing and compositions this way, "For twenty years, I played classical trumpet at a very high level, and it would be a big waste of time not to use this instrument that I know so well, but trumpet isn't the principal actor in my albums; there's no principal actor, anyway. It's a mix of many instruments, many colors and styles. And this mix comes from all that is around me."
Other gems include "Douce" with guest artist Oxmo Puccino, the Asian tinged "All the Beautiful Things" and jazz elegance of title track "Diagnostic. Mr. Maalouf treats listeners to a bonus track "Beirut," a track dedicated to his beloved city. One can't help but be a little greedy, hoping that those achingly, love soaked trumpet lines would just go on forever.
He explains, "I live between France and Lebanon, and of course, Lebanon's sufferings have inspired me," says Maalouf. "But I mostly prefer to use the beautiful things that are around me to inspire me."
Diagnostic is fierce, sharply worked, edgy and wholly passionate so forget what you think of the trumpet and take a dive into some truly wonderful music.
Buy Diagnostic.
Author:
TJ Nelson
TJ Nelson is a regular CD reviewer and editor at World Music Central. She is also a fiction writer. Check out her latest book, Chasing Athena's Shadow.
Set in Pineboro, North Carolina, Chasing Athena's Shadow follows the adventures of Grace, an adult literacy teacher, as she seeks to solve a long forgotten family mystery. Her charmingly dysfunctional family is of little help in her quest. Along with her best friends, an attractive Mexican teacher and an amiable gay chef, Grace must find the one fading memory that holds the key to why Grace's great-grandmother, Athena, shot her husband on the courthouse steps in 1931.
Traversing the line between the Old South and New South, Grace will have to dig into the past to uncover Athena's true crime.