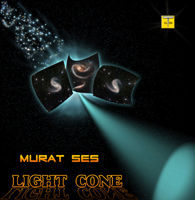 Murat Ses' new album Light Cone released by Clou Records (Florida, USA) on 22 June 2012 and will be distributed by several companies including the New York label PWMN.
A light cone is the path of light, emanating from a single event localized to a single point in space and to a single moment in time.. traveling in all directions thru spacetime.
"…after perceiving that 'you can't swim twice in the same river' I tried to remember again what happened in my Anadolu Pop years and what would come next. Finding myself on that ephemeral point where I had naturally been collecting decades-long inspirations from a myriad of sources I decided to make the music of this fact. The sudden loss of our beloved Mom Lamia once again stressed that ephemeral aspect of life in general", As Mr Ses puts it.
The tracks give the impression of a great historical journey of Anadolu Pop from late 60s to Anadolu Pop 2.0 or Electric Levantine of 2010s created by The Father of Anadolu Pop (as the Turks and a growing number of international listeners call him).
As in former albums, Light Cone incorporates a myriad of cross-cultural elements and all these not only limited to Anatolia. Native-American, Central Asian shaman sounds combined with zurna sounds (one of Murat's decades long synthesizer and organ specialties as on Farewell to Lamia, Anatolian Highway 2, Chiral of Past, I Miss Paris and others).
The music as usual has been composed and recorded during Murat's stays in the USA, Austria and Turkey (Bodrum). Awesome organ, microtonal synthesizer performance by Murat Ses and additional contributions by a network of international vocalists/musicians from the USA (Kcentric, Triple Camp, Chris Rininger, Ishmael Johnson aka I'm Dangerous, Ramona Graham, Kara Sherman, Jason Brock, 4nsic, Fonik, Kendra, SackJo22, Barry Morgan on his bowed guitar), from UK (Trixtar, PhD, Nate Monoxide), from Colombia (Jhonblack), from Canada (Cam Wendt), from France (Phusion), from Japan (Riyu Konaka), from Turkey (Yilmaz, the nice fresh almond vendor of Torba, Vendors of Old Kadikoy Bazaar, Bora Cetin as MC for Man with Bean Teeth).
Artwork by ÖpBe again, who has been designing all of Murat Ses albums and liner notes.
The album has fifteen tracks and has a total duration of seventy-two minutes. For more information check: http://www.muratses.com and http://www.clourecords.com
Further reading on Murat Ses and his unique styles Anadolu Pop and Electric Levantine: http://en.wikipedia.org/wiki/Murat_Ses
Track list:
Beam In The Dark,Chiral Of Past, Farewell To Lamia, Anatolian Highway 2, Big Dipper, Automatic Singer, I Miss Paris, Marbled Dreams. Man With Bean Teeth, Lazy John, Osman And The Gang, Summer Rain On Amelia Island, Rainbow Buffalo 2, Torba Days, Sunlit
Available online on iTunes, amazon.com, aol.com, Napster, Mondomix and other online sales companies worldwide.