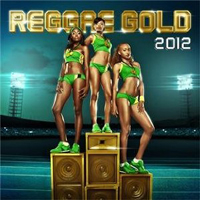 The 20th anniversary edition of the popular annual reggae compilation Reggae Gold is scheduled for release on June 26th, 2012. This year's 2CD set comes in a a deluxe package that contains a commemorative sticker and 15″ x 10″ fold out poster of this year's Reggae Gold cover girls.
The first disc continues the Reggae Gold summer tradition with the year's most popular reggae pop hits. Highlights include Sean Paul's latest single "She Doesn't Mind," Konshens' chart-topping anthem "Gal A Bubble," Jamaica's hottest newcomer Popcaan's "Only Man She Want" and four newly made to order songs – Busy Signal's "Kingston Town Remix" featuring Damian 'Jr. Gong' Marley" (listen via Complex ), Tarrus Riley's "Not Missing You" (listen to premiere on Large Up) Etana's "Reggae" and Gyptian's "Overtime."
Disc 2 of Reggae Gold 2012 is a celebration of Reggae Gold classic hits spanning the past two decades. The all-star lineup includes Beenie Man, Lady Saw, Bounty Killer, Beres Hammond & Buju Banton, Mr. Vegas, Sean Paul, Sizzla, T.O.K. and many other names that fans of the series have come to know and love.
The Reggae Gold series was launched in 1992 by VP Records and provides a round-up of each year's most popular dancehall, roots & culture and lover's rock hits.
Track Listing Disc 1 – Current Hits
1. She Doesn't Mind – Sean Paul
2. Only Man She Want – Popcaan
3. Yah Suh Nice – Potential Kidd
4. Gal A Bubble – Konshens
5. Cheater's Prayer – Christopher Martin
6. Come Over (Missing You) – Busy Signal
7. Reggae – Etana
8. Will I Wait In Vain – Iba Mahr
9. Kingston Town (Remix) – Busy Signal ft. Damian 'Jr. Gong' Marley
10. I Know Better – Romain Virgo
11. Do Sum'n – Konshens
12. Wine – Cham featuring O
13. Overtime – Gyptian
14. Like I Love You – Melanie Fiona
15. Not Missing You – Tarrus Riley
16. In My Arms – Beres Hammond
17. Terry Linen – I Look To You
Track Listing Disc 2 – Classic Hits
1. No Letting Go – Wayne Wonder
2. Hold You – Gyptian
3. Temperature – Sean Paul
4. Romie – Beenie Man
5. Benz And Bimma – Bounty Killer
6. When I Hold You Tonight – General Degree
7. Heads High – Mr. Vegas
8. So Special – Mavado
9. Pull It Up – Beres Hammond & Buju Banton
10. Can't Satisfy Her – I Wayne
11. Just One Of Those Days – Sizzla
12. It's A Pity – Tanya Stephens
13. Below The Waist – Queen Ifrica
14. Healing – Lady Saw featuring Beenie Man
15. Footprints – T .O.K.
16. Down By The River – Morgan Heritage
Listen to samples, buy MP3s or the CD in North America.
Buy the Reggae Gold 2012 album in Europe.
Author:
World Music Central News Department
World music news from the editors at World Music Central