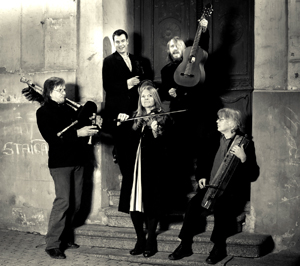 Latvian postfolk group Ilgi will return to Chicago to play at the Old Town School of Folk Music on June 30th. The concert begins at 8:00 PM in the Myron R. Szold Music & Dance Hall, 4545 N. Lincoln Ave., Chicago.
Ilga Reizniece, a classically trained violinist, formed Ilgi in 1981. A year later she was joined by Maris Muktupavels on kokle, bagpipes and accordion. They traveled the Latvian countryside learning folk songs and traditions at a time when the folklore movement was more of a political statement than a musical trend. They, and others like them, cultivated and shared an alternative to the Soviet sanctioned presentations of Latvian "culture."
For Ilgi, there is music beyond the folklore. As Reizniece recalls, "from the very beginning we were different from the authentic music ensembles in the traditional sense. We have always been interested in music as art, not just the folklore aspect of it. The group has always had a dual purpose. We had to fulfill our mission in preserving the Latvian heritage and return forgotten lore to the nation, but at the same time we really enjoyed just playing the music. I am a professional musician after all." Over time Ilgi developed its signature postfolk, combining ancient melodies and instruments with rhythms and arrangements that span time and cross borders.
Gatis Gaujenieks, a native New Yorker of Latvian descent, moved to Latvia and joined Ilgi in 1997 on electric bass, trough fiddle and vocals, as well as in the studio as a producer. Guitarist Egons Kronbergs has been with Ilgi since 2001, juggling his time with the heavy metal Latvian folk band Skyforger. Martins Linde has been Ilgi's percussionist since 2008.
Ilgi has performed throughout Europe, the United States, Canada, Russia, Australia, China and Malaysia. The band's 2007 coast-to-coast U.S. tour included appearances at Globalquerque, the University of Wisconsin-Madison World Music Festival, Cedar Cultural Center in Minneapolis, Freight & Salvage in Berkeley, Swallow Hill in Denver, and The Triple Door in Seattle.
The Latvian recording industry has awarded the band Best Folk Music Album five times, most recently for its 2011 release Tur saulite perties gaja. In April 2012 it debuted at No. 4 on the World Music Charts Europe, which commented "Celebrating their 31st anniversary, Ilgi reveal no sign of their longevity, at least musically speaking."
Tickets are $15 for the General Public, $13 for Old Town School Members. The box office number is 773-728-6000.
Listen to samples and buy MP3s of Tur saulite perties gaja.
By the CD at CD Baby or Balticshop.com
Author:
World Music Central News Department
World music news from the editors at World Music Central