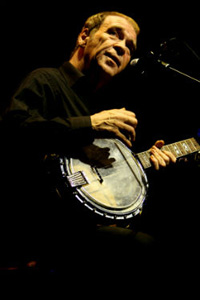 Irish folk music legend Finbar Furey is currently touring the United States to promote his new album titled Colours.
The new recording features original contemporary folk songs as well modernized versions of traditional Irish music. There is also a cover of Bob Dylan's popular "Blowin' In The Wind".
Colours includes guest performances by Mary Black and Shayne Ward, winner of "The X Factor".
Under his father's direction, Finbar became a champion piper in his teens. By the late 1960s, Finbar and his brother Eddie played with the influential Irish folk group The Clancy Brothers, touring the world.
The Furey brothers went on to form their own group alongside the rest of their siblings (and eventually Davey Arthur). Finbar led The Fureys to the top of the charts for nearly thirty years. In 1997 Finbar decided to step out on his own and pursue a solo career.
In addition to his career as a singer-songwriter and multi-instrumentalist, Finbar has had success as an actor appearing in films such as Martin Scorsese's Gangs of New York. He recently appeared in the movies Paris/Sexy and Strength and Honour and also in the Irish RTÉ Television series Love/Hate.
Next concerts:
20-Jun
Jammin' Java
Vienna, VA
22-Jun
World Café Live at The Queen
Wilmington, DE
29-Jun
An Beal Bocht Cafe
Bronx, NY
30-Jun
An Beal Bocht Cafe
Bronx, NY
Author:
World Music Central News Department
World music news from the editors at World Music Central