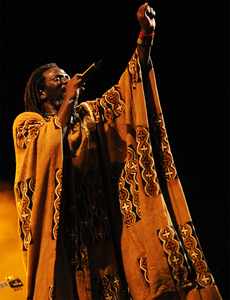 African Reggae icon Tiken Jah Fakoly is set to perform on June 16th at Apollo Mainstage on Saturday, June 16th at 8:00 pm. The opening act is The Cannabis Cup Band. The concert is part of the Celebration of June's Black Music Month.
Tiken Jah Fakoly's Apollo debut will be particularly expressive given all of the changes in West Africa recently, especially with the current political crisis in Mali. Mr. Fakoly has recently released a new video about Mali's current situation titled "Amadou." This year also marks other important changes in the singer's life, most significantly, his return this past January to a now peaceful Ivory Coast -his first time in his homeland since first being exiled in 2002.
Born into a griot family in the Ivory Coast, Tiken Jah Fakoly has always used his music as a vehicle to speak out against the social injustices and oppression in his native country as well as other parts of Africa. He discovered reggae at an early age, assembling his first group, Djelys, in 1987.
Concerned by the social and political evolution of his country, it was not long before Mr. Fakoly was writing incisive works on the political environment in IvoryCoast. Most famously, his song recounting the death of Ivory Coast's first president, Félix Houphouët-Boigny, elevated him to popularity among thousands of African youth.
He became well-known at a regional level, and soon his music and his reputation stretched across the nation, eventually spreading beyond its borders and, in 1998, Fakoly made his first international appearance in Paris. Soon after that, he became a certified star, building a huge fan base throughout Europe and Africa. As a result of his outspoken criticism of the government in his native country, Mr. Fakoly was forced into exile in neighboring Mali.
Author:
World Music Central News Department
World music news from the editors at World Music Central