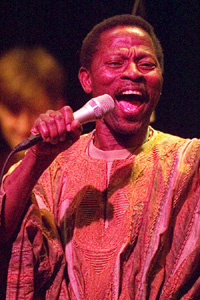 The dance party after the all-day, free Berkeley World Music Festival has turned into a tradition at the Ashkenaz world music club. Berkeley World Music Festival is celebrating its ninth year on Telegraph Avenue with many world artists who often play Ashkenaz. On Saturday, June 2nd, Ashkenaz's afterparty features the recently reunited and re-energized Afrofunk pioneers Joni Haastrup & Monomono.
A legendary name to longtime African music lovers, singer and all-around showman Haastrup returns with his reformed Monomono band. When Cream drummer Ginger Baker visited Lagos, Nigeria, in 1969 to visit Fela Kuti, he saw Haastrup perform and the next year recruited him to tour Europe and the United States with Baker's band Air Force.
Upon returning to his homeland, Haastrup took that experience along with his African roots and in 1972 created Monomono, recording some of the first Afrofunk music for Capitol Records. The band was co-founded by bassist and composer Babá Ken Okulolo, well-known in the San Francisco Bay Area for leading Kotoja, Nigerian Brothers, and other African groups. Haastrup was a bandleader and teacher to many in the Bay Area.
Last November, UK label SoundWay Records reissued on CD two classic Monomono albums from the '70s, "The Dawn of Awareness" and "Give the Beggar a Chance," and a Haastrup solo album, "Wake Up Your Mind," all of them receiving heavy airplay on college radio and world music programs.
Ashkenaz , 1317 San Pablo Avenue Berkeley, CA 94702. Phone: (510) 525-5054
Doors at 9:00 pm; Show at 9:30 pm
$13 / $10 students (w/valid ID)
Author:
World Music Central News Department
World music news from the editors at World Music Central