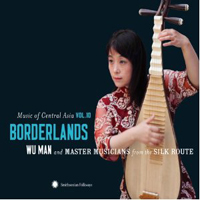 Wu Man and Master Musicians from the Silk Route
Music of Central Asia Vol.10 Borderlands (Smithsonian Folkways, 2012)
There's something anticipatory about music. You get hints about the mysteries that await behind the cover art and accompanying photos, but it never really reveals the inner magic until those first notes eke out. So, stumbling headlong into Smithsonian Folkways' final recording for their Central Asia music series, Borderlands, with pipa master Wu Man along with Uyghur, Tajik and Hui fellow musicians is a bit like transported to a rise of land with the a wholly exotically stunning Asian landscape stretched out before you.
With other volumes like Tengir-Too: Mountain Music from Kyrgyzstan, Homayun Sakhi: the Art of the Afghan Rubab, Bardi Divas: Women's Voice in Central Asia, Alim and Fargana Qasimov: Spiritual Music of Azerbaijan and In the Footsteps of Babur: Musical Encounters from the Lands of the Mughals, Smithsonian Folkways has dipped into some of the most overlooked Asian musical traditions and put that music to disc to dazzle fans and open these traditions to music lovers, students and scholars. How could it get any better than that?
Borderlands doesn't disappoint with fourteen powerfully worked, artfully crafted tracks from China and Central Asia. If this is even a slice of what the first Westerns who traveled the Silk Route encountered it's a wonder that they ever managed to travel the whole of it and not just continually wander off the path and drink in what musical delights there was to be found at each stop.
Rich tracks like the opening "Improvisation for Three and a Half Instruments" with Abduvali Abdurashidov on sato-tambur, Sirojiddin Juraev on dutar and Wu Mna on pipa, the lovely "Chebiyat," and the lazily stunning "Ushshaq" with Abdulla Majnun on ditar turn Borderlands into something truly exceptional. Brimming over with Sanubar Tursun on vocals and dutar on "Ademler Ulugh and "Shadiana" with AbdulMajnun on dutar and Wu Man on pipa, this recording possesses a graceful elegance and underlying poignant potency.
Other gems include the improvisational piece "Navo" and "Biderding" with dutar, satar and vocals with the music composed by Sanubar Tursun.
Fans are offered a lush booklet filled with photos, artist bios and instrument guide, as well as an overview of central Asian musical traditions. If that weren't enticement enough Borderlands comes with an accompanying DVD with a video on the Music of Central Asia and the Aga Khan Music Initiative, performances of Borderlands and an Interactive Instrument Glossary.
Borderlands is truly a treat, sumptuous and lavishly engaging.
Author:
TJ Nelson
TJ Nelson is a regular CD reviewer and editor at World Music Central. She is also a fiction writer. Check out her latest book, Chasing Athena's Shadow.
Set in Pineboro, North Carolina, Chasing Athena's Shadow follows the adventures of Grace, an adult literacy teacher, as she seeks to solve a long forgotten family mystery. Her charmingly dysfunctional family is of little help in her quest. Along with her best friends, an attractive Mexican teacher and an amiable gay chef, Grace must find the one fading memory that holds the key to why Grace's great-grandmother, Athena, shot her husband on the courthouse steps in 1931.
Traversing the line between the Old South and New South, Grace will have to dig into the past to uncover Athena's true crime.