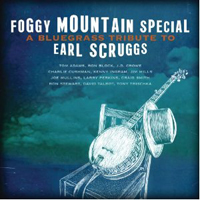 Over a period of two years, many of the best banjo players in bluegrass got together in Nashville (Tennessee) to record Foggy Mountain Special: A Bluegrass Tribute To Earl Scruggs. With his recent passing, this tribute collection of never-before-released material has become a memorial album as well, for his pervasive influence can be heard on every track. Bluegrass banjo doesn't get much better than this.
The producer of Foggy Mountain Special, Tim Austin, assembled a dozen of bluegrass music's top banjo players and ten stellar backup musicians to record the 12 tunes in this collection. Each track is based on Earl Scruggs' playing as captured on studio recordings and live tapes made between 1949 and 1969. These tunes range from traditional pieces like "Sally Goodin" and "Reuben" to the western swing instrumental "Steel Guitar Rag" to Bob Dylan's "Nashville Skyline Rag."
"Pike County Breakdown" is based on Bill Monroe's supercharged transformation of the folksong "Sweet Betsy from Pike." The majority of the collection's remaining tunes were written or co-written by Scruggs himself, including arguably the most famous banjo tune of all time, "Foggy Mountain Breakdown."
Earl Scruggs almost single-handedly perfected and popularized the rolling, three-finger banjo technique ("Scruggs Style") that has become the signature sound of bluegrass.
Track Listing:
1. Flint Hill Special
2. Reuben
3. Foggy Mountain Special
4. Randy Lynn Rag
5. Sally Goodin
6. Pike County Breakdown
7. Foggy Mountain Rock
8. Nashville Skyline Rag
9. Earl's Breakdown
10. Steel Guitar Rag
11. Ground Speed
12. Foggy Mountain Breakdown
Banjo players: Tom Adams, Ron Block, J.D. Crowe, Charlie Cushman, Kenny Ingram, Jim Mills, Joe Mullins, Larry Perkins, Craig Smith, Ron Stewart, David Talbot, Tony Trischka.
Backup Musicians: Dan Tyminski – Mandolin, Guitar; Adam Steffey – Mandolin; Randy Kohrs – Dobro; Cody Kilby – Guitar; Clay Hess – Guitar; Wyatt Rice – Guitar; Ben Isaacs – Bass; Barry Bales – Bass; Dennis Crouch – Bass; Ron Stewart – Fiddle; Jason Carter – Fiddle.
Author:
World Music Central News Department
World music news from the editors at World Music Central