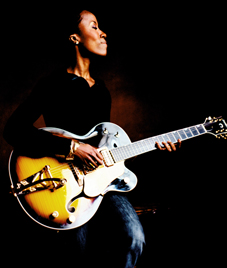 Rokia Traoré will be making an anticipated return to London this summer with two major projects. In June, Traoré is set to present a specially-curated series of three shows based on aspects integral to Malian music and its traditions: Donguili – Donke – Damou (Sing – Dance – Dream). This is followed in July by her performance in the UK premiere of Desdemona, a staged concert co-written with Nobel Prize-winning novelist Toni Morrison and directed by Peter Sellars, featuring an intimate, profound conversation between Shakespeare's Desdemona and her African nurse Barbary.
Produced by the Barbican, Donguili – Donke – Damou (translated as Sing – Dance – Dream from the Malian language, Bambara) sees Traoré performing in three different venues, bringing her talent to the Barbican and beyond its walls to the beautiful, historic Wilton's Music Hall and the creative hub of Village Underground.
Beginning the series on Monday 18 June, Damou (Dream) is an intimate acoustic evening of music and traditional Malian and Manding storytelling , featuring kora, ngoni and voice, in the atmospheric surroundings of Wilton 's Music Hall.
For the second concert on Friday 22 June, in the Barbican Hall, Traoré is joined by a group of UK, European and emerging African artists. Donguili (Sing) centers on the collaboration between these musicians, featuring reinterpretations of existing songs and repertoire developed at the Music Institute Traoré founded in Bamako which works with emerging young musicians.
In the final show of the series, Donke (Dance), Rokia Traoré performs music from her forthcoming album, with award-winning Polly Harvey producer John Parrish at the helm. This celebration of "rock & Manding" , will feature Parrish on guitars, drummer Seb Rochford (Polar Bear) and bassist Nicolai Munch-Hansen plus some of the same musicians from the previous night in a club gig at Village Underground in Shoreditch on Saturday 23 June.
Explaining her inspiration, Rokia Traoré says: "As I have listened and appreciated the epic of the Mande, embroidered with beautiful melodies, I also felt the desire to learn and interpret it my way from the Manding epic of griots."
Rokia Traoré returns to the Barbican Hall on Thursday 19 & Friday 20 July for the UK premiere of Desdemona . In response to Peter Sellars' 2009 staging of Othello, Rokia Traoré and Toni Morrison (both women of African and African-American origin), collaborated to create a work inspired by an 'invisible' character from one of Shakespeare's most racially charged plays: Desdemona's African nurse Barbary. Moving beyond centuries of colonialism and racism, the two characters share stories, songs and hope for a different future, against a backdrop of African and Western musical textures. Traoré herself sings the role of Barbary and the part of Desdemona is played by actress Tina Benko who performed the role in the production in Paris, Berlin, New York and Berkeley.
Desdemona is part of The World Shakespeare Festival, produced by the Royal Shakespeare Company for London 2012 Festival, the spectacular 12-week nationwide celebration running from 21 June until 9 September 2012 bringing together leading artists from across the world with the very best from the UK.
Donguili – Donke – Damou (Sing – Dance – Dream)
18–23 June 2012, Tickets £15-25
Monday 18 June, 8pm, Wilton's Music Hall: Damou (Dream)
Friday 22 June, 7:30pm, Barbican Hall : Donguili (Sing)
Saturday 23 June, 8.30pm, Village Underground, Shoreditch : Donke (Dance)
Part of London 2012 Festival
Desdemona
Thursday 19 & Friday 20 July 2012, 7.30pm, Barbican Hall
Tickets from £15
Part of the World Shakespeare Festival and part of London 2012 Festival
Barbican Box Office: 0845 120 7550
www.barbican.org.uk
Author:
World Music Central News Department
World music news from the editors at World Music Central