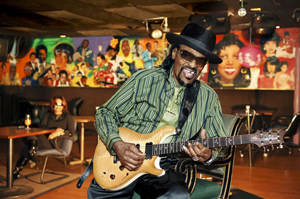 African-American musician Chuck Brown, a National Endowment for the Arts (NEA) National Heritage Fellow Chuck Brown, who pioneered a musical genre popular in the Washington DC area called go-go, died May 16, 2012.
"On behalf of the National Endowment for the Arts, it is with great sadness that I acknowledge the passing of 2005 NEA National Heritage Fellow and musical innovator Chuck Brown," said National Endowment for the Arts Chairman Rocco Landesman. "The 'Godfather of Go-Go,' Brown is one of the few musicians to create a new genre of music. An incredible performer, fans in Washington, DC and around the country will miss his unique way of interacting with audiences, making them an integral part of the music and the beat."
Chuck Brown pioneered go-go, a musical blend of Latin beats, African call-and-response chants, rhythm and blues, funk, and jazz that has been identified with the District of Columbia for more than 40 years.
Brown was born in North Carolina, but his parents moved to the District of Columbia when he was seven. He grew up listening to jazz and blues and took up playing the guitar. In the early 1960s, he began performing with a Latin-inflected pop band called Los Latinos.
Brown eventually broke away to pursue his own artistic path and formed a group called the Soul Searchers. In 1971, they recorded "We the People," said by many to be the first recording with the distinctive go-go sound. Brown's 1978 album Bustin' Loose with the #1 hit single of the same name spread this regional music to a national audience. Today, this sound is heard in clubs and dance halls, as well as on the playgrounds and street corners, of the District of Columbia. In 2005, Chuck Brown received the NEA National Heritage Fellowship, the United State's highest honor in the folk and traditional arts.
In a 2010 interview with the NEA, Chuck Brown described how he created the genre of go-go: "I was trying to create a sound of my own but it ended up being a sound for the town and all the other bands jumping on it, you know? Everybody like that groove, you know? Break down and you caught a response to the people, you know? And that's what it's about and it just goes and goes. It got to the point we didn't have to do no more ballads, didn't have time to do no ballads, everybody wanted to stay on the floor. Once you come through that door, you're gonna get on the floor."
Author:
World Music Central News Department
World music news from the editors at World Music Central