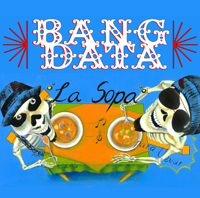 Bang Data – La Sopa (Rockolito Music, 2012)
Bayonics – Mission Statement (Bayonics, 2012)
Congo Sanchez – Vol. 1 (ESL Music, 2012)
Brownout – Oozy (Nat Geo Music, 2012)
These days you can have your Latin music seasoned any number of ways. Electronic beats embellish Afro-Cuban rhythms, funk and rock fortify Spanish-accented horns and guitars, dance moves range from sweat inducing to pre-chilled. These four current releases might not be as readily filed under "Latin" as, say, your average salsa album, but the Latin vibe is there whether directly so or not.
La Sopa ("The Soup") is the full-length debut by Bay Area duo Bang Data, and the combination of vocalist Deuce Eclipse and instrumentalist/beat constructor Manuel Caipo makes for a fun and loose mash of organic and mechanized Latin beats, high and lo-fi production and patchwork tracks that mix singing and rapping. Not particularly groundbreaking, but consistently infectious and sure to keep dancers in motion. Plus there are guest contributions by the likes of Santana percussionist Karl Perrazzo and Afro-Peruvian vocalist Eva Ayllon that add class.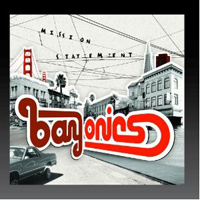 Also from San Francisco, Bayonics is a 10-piece outfit that mixes Latin rhythms with funk, hip hop and a bit of jazz. They're just as handy with downtempo subtleties as they are with full-on jams, and though the skills of the horn and rhythm sections often take a back seat to the vocals (again a balance of singing and rapping), the band chugs along with more than enough variety and energy to satisfy many a mind and body.
Taking a big jump east to Washington D.C., we find instrumentalist and producer Congo Sanchez, whose skills have enriched the sounds of such bands as the Funk Ark and Thievery Corporation. His own solo debut is only a 4-song EP, but it's a mighty good sampler of what the man can do sonically. Afrobeat-style grooves, dubby effects, live percussion and understated melodies combine for a short but extraordinarily sweet musical ride. I seldom recommend recordings that aren't full length, but Congo Sanchez's Vol. 1 is an exceptionally good sampler by a man I want to hear more of. And cheers for his use of Fela Kuti's spoken voice on "Democrazy."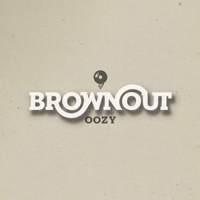 Austin-based Brownout, spinoff band of Grupo Fantasma, is back with their latest, Oozy. And ooze it does, with gobs of great analog Latin funk and not a drum machine in sight. A fair number of soul, psychedelic and R&B moments are part of this group's appeal as well, and their lineup of sparring guitars, bass, drums, congas and horns (plus a few add-ons of organ, harp and violin) handles everything from the all-out dancefloor assault of "Andy Y Dando" to the moody, broody "I Won't Lie" and the stinging Afro-gumbo of "Meter Beater."
Guitars and horns build ever higher walls of spaced sound over the granite-solid rhythm section, occasional group vocals chime in to further fire things up, and the whole thing blazes with unfaltering power and casually superb playing. Get it.
Author:
Tom Orr
Tom Orr is a California-based writer whose talent and mental stability are of an equally questionable nature. His hobbies include ignoring trends, striking dramatic poses in front of his ever-tolerant wife and watching helplessly as his kids surpass him in all desirable traits.