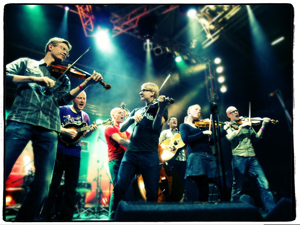 Nordic summers are tantalizingly short and the winters interminably long and icy, so the climate is generally conducive to indoor pursuits such as music study. Which might partially account for Finland's extraordinary capacity to produce virtuoso violinists and accordionists.
The municipality of Kaustinen in Ostrobothnia, the hub of Finnish-Ugric culture, and Helsinki's Sibelius Academy, located some 500 km to the south, are the major centers of stringed instrument and box playing excellence and music education in far-flung northern Europe. And so it is no surprise to discover that Finland's fearless young fiddle-driven champions of folk, Frigg, and the country's daredevil solo accordion king, Kimmo Pohjonen, who both toured Australia in March during the festival season, are among those institutions' brightest graduates.
Led by acts like Värttinä, Lepistö & Lehti, JPP and Maria Kalaniemi, Finnish folk music has undergone something of a roots revival in recent decades. Frigg is the latest flag bearer.
Formed in 2001, the band centers on three members of the Järvelä family, which has been synonymous with four generations of fiddle players in Kaustinen, in the country's pristine central west region, where there is also a village of the same name. Brother and sister Esko and Alina Järvelä are in Frigg's fabulous front line, along with Tero Hyväluoma and Tommi Asplund. Their nephew Antti Järvelä is also a fiddler — in fact, he's regarded as one of the finest in Finland — but largely forsakes his violin to play upright bass in the band. "Someone has to play it," he says drolly.
While their frontline of fiddlers provide the melodious and rhythmic wall of sound that defines Frigg, the band's music is boosted by the presence of several multi-instrumentalists. Petri Prauda and Tuomas Logrén cover the sonic area between violins and bass. Prauda, from southern Finland, plays mandolin, cittern and Estonian bagpipes, the last-named an unusual addition offering a wide range of sound from lower register drone to banshee wail. Logrén, from Karelia near Finland's eastern border with Russia, plays guitar and also dobro, which weaves effectively among the four and sometimes five fiddles. He was a member of Värttinä, Finland's best-known band, in his teens.
Your correspondent was fortunate enough to catch Frigg in concert during their early days, at the 2003 Kaustinen Folk Festival. They were brilliant then, but even more dynamic when I saw them again at last year's Rainforest World Music Festival in Borneo. During the intervening years, the band has wowed audiences around Europe, Asia and North America, where they even got to perform on the USA's long-running national country music radio show A Prairie Home Companion.
There's an element of hoedown in Frigg's beautifully crafted, inventively orchestrated and executed instrumentals, a la the great American composer Aaron Copland. While Celtic and Scandinavian influences also pervade their music, the central strand is based on traditional Finnish folk dance melodies and rhythms.
The band, which is named after the Scandinavian goddess of fertility, collectively refers to its hybrid style as "nordgrass". Antti Järvelä describes this prosaically as: "Nordic flavored, original, happy and energetic roots music that has the drive of an unstoppable train." Enlarging on that, he adds: "The most important thing for us is to connect with the energy and the pulse because our music is meant for dancing. We grew up in an environment where there was dancing. That's why we work very hard, so the audience can connect with the energy and the grooves. When there's a hall full of people dancing to a good band, there's something really magical in the air and in the energy."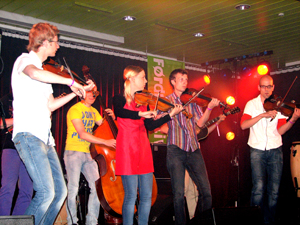 Frigg actually started as a co-operation between two musical families, the Järveläs and the Larsens from Norway. At first it was just an educational exchange, the youngsters of the families being cross-taught by the patriarchs of the two clans. "Over the years, we learned more how to communicate with the Norwegians — mostly we learned more English — and then in 2000 we decided to try something together," relates Antti J. "I had an idea to try some new music I had written and also as a project Alina, Esko and me had been asked to do, to make some locally collected music from Southern Ostrobothnia live again. Musically, we hoped first of all just to get to play and have fun making our own music and get people to hear and enjoy it." They do that spectacularly well, although these days the Norwegian factor is somewhat diminished.
Frigg's flamboyance and flair flies in the face of the widely held notion that Finnish folk music is predominantly melancholic and played in minor keys. "If you look at our country's tunes from before World War II, seventy percent are in a major key," says Antti J pointing out the fallacy. "Frigg plays happy music," he emphasizes again.
All the band's members have performed in orchestras and studied classical and folk music composition at the aforementioned Sibelius Academy, an enlightened state institution that encourages invention beyond conventional limits. Advanced musical training shows in the band's intricate arrangements of a combination of traditional and original instrumentals on their fifth album, Grannen, which they'll be showcasing on their maiden Australian tour.
Several members of Frigg have enjoyed past associations with compatriot Kimmo Pohjonen, who were also on the bill at this year's WOMADelaide. "He's an interesting musical character," offers Antti Järvelä, adding, "every time he does something, it's very unusual and interesting." Pohjonen is equally complimentary about Frigg: "They are brilliant — one of the best bands in Finland."
Kimmo, as he's widely known, is something of a one-man-band, an exceptional musician and showman whose gigs are a mixture of musical brilliance, élan and razzle-dazzle. He has, however, collaborated with the likes of America's revered Kronos Quartet and he is a member of the band KTU, along with former members of UK jazz-rockers King Crimson.
Pohjonen has been dubbed "the Jimi Hendrix of the accordion", a tag he is not especially fond of, although he was happy enough to participate in a Hendrix tribute at Patti Smith's Meltdown festival in London a few years ago. He recalls: "Yes, that was great fun. I performed with drummer Sami Kuoppamäki. We did 'Burning of the Midnight Lamp' and the live instrumental improvisation piece called 'Drivin' South', but we changed the name to 'Drivin' North' because we envisioned we were driving north to Lapland and because Pohjonen means 'north'. We had a great response."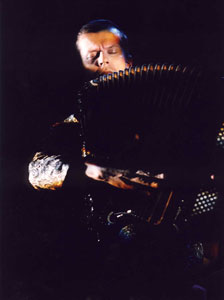 Like Hendrix, Kimmo is a virtuosic loose cannon who has taken his chosen instrument into new territory. "I try to compose and create outside of any recognized styles or possible influences," he confirms. "That is not always easy because we are all subject to outside influences whether we acknowledge them or not."
Pohjonen plays a custom made accordion based on his own specs, with electronics added, also to his own specification, which allows him to push the sound to extremes. His swashbuckling, freewheeling musical exploration ranges from Zappa-esque technical epics to folk, classical and rock-based pieces. "I have a MIDI system built into my accordion," he explains. "Also an effects rack with control pedals at my feet and more odds and ends. I can sample and loop my playing and voice and then reproduce them back through my instrument or through my electronic gear." He stresses that all the sounds he makes originate from his accordion and voice, except for what he calls "Earth Machine Music pieces", which also feature farm machines and animals.
In Kimmo's hands, the instrument can sound like a pipe organ or a full orchestra, with a little electronic assistance adding an octave of diaphragm-shuddering bass. "The fun part is that I'm still discovering new sounds from the accordion, thanks to these electronics," he says.
Family tradition dictated that Pohjonen took up accordion as a kid, even though the instrument was considered somewhat uncool at the time. Like Frigg, he was weaned on Finnish folk dances and classical music. Then he got into Tex-Mex and Cajun players like Flaco Jimenez and Queen Ida, before discovering the Argentinean bandoneon maestro Astor Piazzolla. "I even went to Buenos Aires to learn how to play his tango nuevo," Kimmo reveals. "It took me many years before I realized there is accordion life beyond classical and folk music. Due to a series of events and experiences, I found my own voice in the instrument, my own way of playing that was unrelated to everything I previously did with accordion. Fortunately, accordion is now respected much more than 10 or 20 years ago. I am happy to see so many players take it up and try to create new things. Maybe now accordion is considered cool!"
One of Pohjonen's greatest inspirations has been the Tanzanian musician Hukwe Zawose. "I saw a concert of his in Helsinki and was totally knocked out. I went to Tanzania to study with him, learning thumb piano and more. He was one of the great musicians of all time, I think, and his music, his friendship and his character affected me greatly."
Another major influence was Heikki Laitinen, former director of the Sibelius Academy's Folk Music Department. "He helped to open my mind to new ways of thinking about music, composing, improvisation, performance, voice and attitude," says Kimmo. "For a long time I thought I could not sing, but Heikki overturned all that and showed me how I could find my own voice. I use it in my music as another instrument; the larynx and lungs, like the reeds and bellows of accordion. I use effects also on my voice to enhance and make it sound new and different, like I do with accordion. I try to use my whole body in my performances, even beyond voice. It is a very physical experience and voice is one important part of the overall expression."
On his only previous visit to Australia in 2009, Kimmo Pohjonen toured the Outback as part of the Queensland Music Festival. "We did three performances in different locations. One was on a farm, another in a vineyard and the other was at a camel racetrack. The farm and vineyard shows were especially fun because the settings were more intimate. It was a great joy to collaborate with the local farmers and their machines. Audiences seemed to really enjoy it because it was something they had never seen before — it was a big surprise for them. The last show was at a club in Brisbane. We surprised the audience with one Earth Machine Music piece featuring a live chainsaw."
• The above interview first appeared in Rhythms, Australia's only dedicated roots music magazine, for which the author is World/Folk correspondent.
Author:
Tony Hillier
Tony Hillier is based in Cairns in far north Queensland, from where he has been actively involved in all areas of the music industry in Australia for the past 25 years, primarily as a journalist, writing for national publications such as the Weekend Australian and Rhythms magazine (for which he is World Music & Folk correspondent), and performing locally, nationally and internationally with the bands Kamerunga and Snake Gully. He has also presented and produced World Music and Folk music programs for ABC Far North, Port Douglas Radio and 4CCR-FM, netting a CBAA Best Specialist Music Program Award with the last-named for a documentary on flamenco. Before coming to Australia, he was a racing journalist of some repute in the UK, where he wrote a column for the London Evening Standard under the nom-de-plume of Ajax.