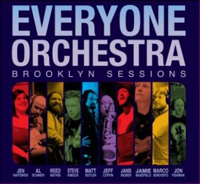 Everyone Orchestra – Brooklyn Sessions (Harmonized Records HAR-040, 2012)
Alon Yavnai & The NDR Bigband – Shir Ahava (NDR, 2012)
The difference between an orchestra and a big band? I don't know. But one thing's for sure- when there are multiple players involved in a musical endeavor, everyone had better be on the same page.
Such is certainly the case with Everyone Orchestra, which developed out of open mic nights organized by drummer/conductor Matt Butler and now gives us Brooklyn Sessions, a "collection of songs created from two days of conducted improvisation" (as Butler notes on the back cover).
If this is truly music made up as things went along, then I have a newfound respect for spontaneity. The track "Explore Space" pretty much describes what EO does on each of the 8 selections here: they come up with a sound or riff to build upon, find a groove and then decorate it accordingly with solo passages, traded leads, singing, scatting, alternated sections of sparseness and layering and a seeming sixth sense of when to play and when to lay out. You can call this experimental music, jazz or any number of things, but it always comes across fully formed, not just a jumble of unresolved ideas.
A lineup of drums, guitars, bass, trumpet, keyboards, "vintage toys," sax, percussion, vocals and mandolin (often the melodic wild card) glides joyfully through bouncing numbers like "Funk Explosion," the tightly wound asides of "Pensive" and "Bass Blanket," an invitation to "Take Off Your Clothes" and bluesy closer "Talk to Me," each an expertly eclectic slice of impromptu music made for the serious fun of it. Impressive.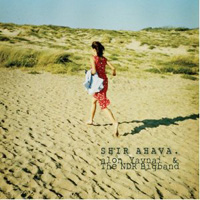 Israeli pianist Alon Yavnai and the NDR (Norddeutscher Rundfunk) Bigband give us Shir Ahava, the title of which means "A Love Poem." Accordingly, the album is a lovingly constructed set of compositions straddling the line between jazz and world music.
The 17-piece band is heavy on the horns, which prominently compliment Yavnai's inspired piano turns. But most of the lengthy tracks are more suites than songs, veering off into territory like the Balkan asides on "Travel Notes" and Arabic sizzle of "Bitter Roots."
At times almost classical in its sophistication, at other times whimsical and at all times rich with melodic colors and inspirations, the music on Shir Ahava is stunningly poetic without a word spoken.
Author:
Tom Orr
Tom Orr is a California-based writer whose talent and mental stability are of an equally questionable nature. His hobbies include ignoring trends, striking dramatic poses in front of his ever-tolerant wife and watching helplessly as his kids surpass him in all desirable traits.