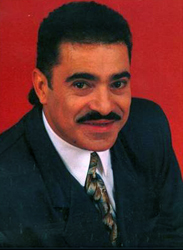 Legendary salsa singer and sonero like no other, Junior Gonzalez, died May 10th of pancreas and liver complications. He was one of the greatest salsa singers and a great example to the singers of today. He will be greatly missed.
Junior "Hommy" Gonzalez was born May 7th, 1949 in Coamo, Puerto Rico. His peak was in the early 1970s, when he became the vocalist for the famed Harlow Orchestra.
He recorded several salsa romantic (romantic salsa) albums for the J&N Records label. Some of his hits include "Tengo Derecho a Ser Feliz", "Lady in Red", "En Su Tiempo Siempre" and "Mis Raíces".
Together with Celia Cruz and Cheo Feliciano, Junior "Hommy" Gonzalez was one of the leading artists in the first Latin music opera called "Hommy.
Throughout four decades, Gonzalez received 6 gold album and 3 platinum albums as well as numerous accolades.
Author:
Les Moncada
Les Moncada is a former Latin Jazz orchestra leader and conguero for over 40 years. He was born in Oakland, California and currently resides in Sacramento, California.
Les Moncada was an apprentice to conga and batá master Francisco Aguabella, a friend of vibraphonist Cal Tjader, Latin Jazz band leader Pete Escovedo, conguero Armando Peraza and many more.
He has been writing for many years for World Music Central.
Les Moncada's Facebook site is: Timbales and Congas Bongo Bata and bells.