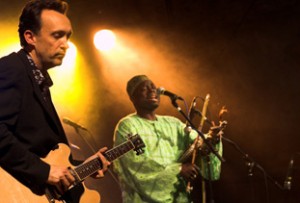 On July 21st JuJu will be taking part in the BT River of Music event. A spectacular global summit of rhythm and song, the two-day free series of concerts will act as a curtain-raiser for the sporting celebrations to follow and will feature artists representing all Olympic and Paralympic nations, from the largest nations to the tiniest ocean island speck.
Arguably the most ambitious musical event ever staged in the British capital, BT River of Music will present the city's residents and visitors with a unique opportunity to sample a mixture of the world's most vibrant contemporary music.
Established, award-winning and emerging artists from every part of the globe will be performing on stages at six iconic sites along the length of the River Thames each hosting music from a different continent.
JuJu will be representing Africa at the event, with Justin curating their set, titled 'The Invisible republic of Juju'. He explains: "History teaches us an unremitting story of domination and conquest – but music points to another story where cultures have been in dialogue for thousands of years. "The Invisible Republic of Juju" presents a show beyond borders , where the trance connections between Africa, the Arab world, and the spirit of Rock and Roll are riotously celebrated. Justin Adams and Juldeh Camara's 21st Century psychedelic griot groove is augmented by seven of North Africa's finest musicians, taking deep tradition and infusing it with the energy of the Arab Spring."
Juju includes Justin Adams (electric guitar, bendir, backing vocals), Juldeh Camara (lead vocals, ritti, talking drum), Billy Fuller (bass) and Dave Smith (drums, percussion). Their latest album 'In Trance' (Real World Records) was recorded live to capture the essence of JuJu's electric live performances – incorporating trance rhythms from West Africa, jazz and the wilder side of rock.
Saturday, 21 July
BT River of Music Festival, London Pleasure Gardens, Royal Victoria Docks, London E16 2BS
Tickets: www.btriverofmusic.com/page/tickets
Author:
World Music Central News Department
World music news from the editors at World Music Central