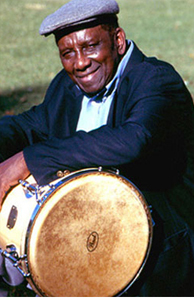 Francisco Aguabella was born in Matanzas, Cuba in 1925. He was an Afro-Cuban master drummer. Francisco played with different sets of drums from Cuba, from batá drumming to playing the Qqinto (solo/accenting drum) in the Cuban carnival comparsas, which could be compared to the Brazilian Carnival. Francisco was from a long batá branch (Rama) and performed in the legendary rama of batá Player (Bataleros) of Pablo Roche "Okilapa."
Francisco told me long ago about Esteban "Cha Cha" Vega Bacallo. "Cha Cha was the first person to place the first okonkolo batá drum on my lap". Francisco had more knowledge than any other conga drummer in the USA, when arriving to the United States. He had a great friend, conga, Batá drummer Julito Collazo whom he greatly admired and who later joined Francisco on a surprise visit. "Katherine Dunham, (leader of famed dance troupe) knew I was depressed on the ship and wanted to go back to Cuba, so Katherine surprised me. I went into my room in the ship, because I wanted to go back home to Cuba. I closed the door and hiding behind the door was Julito Collazo, my good friend from Cuba. I was so happy to see Julio, that Julito and I stayed playing for the dance troupe".
Francisco was a great composer and on rare occasions played the timbales. Once, at a drum clinic I did with Francisco, and also with drummer Nico Gutierrez, who owned a percussion clinic shop in downtown San Diego, a student asked Francisco what timbales drums were. Francisco said, "let me show you." He soloed on a pair of timbales, while I played a rhythm on the other set of timbales. Francisco soloed for 10 minutes, without stopping, and the student was amazed. I told the student, he did not realize what he had just witnessed, because Francisco rarely played timbales. Francisco would chuckle and laugh and at times say to me, "When I played timbales once for Carlos Santana, boy did Armando Peraza give me a bad time and he would jokingly make fun of me…, since I am really a conga drummer."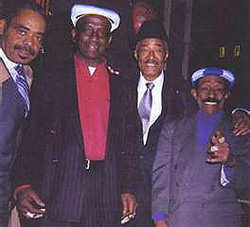 Francisco composed many tunes. The most famous, performed and recorded by Tito Puente, were "Complicacion" and "Agua Limpia Todo", which tore dance halls across the United States, unifying all races who eagerly wanted to learn how to dance the mambo and the cha cha cha.
Francisco was the musical director for Cesar's Latin Band in San Francisco's Mission District and at times after the gig was done at 2:00 A.M, Francisco would tell me, "I would finish the gig at Cesar's and, without sleeping, drove to Los Angeles, all night, and played batá drums for a ceremony all day long". Francisco told me that in Cuba, for certain ceremonies long ago, there were 2 sets of drummers. One group played all day while others were sleeping and they would take turns playing for days at a time." From this Francisco learned stamina and strength in drumming.
Francisco told me that he enjoyed playing with the Tito Puente Orchestra and with Eddie Palmieri and the Perfecta. He really had an admiration for Eddie Palmieri and wanted to relocate and live in New York City, where Eddie was going to get him this house in front of his, therefore they would be neighbors.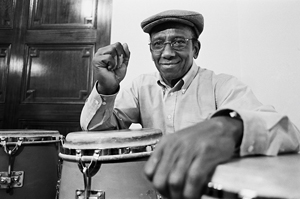 Francisco also shared with me many stories: "I was playing with the Tito Puente Orchestra at the Rockefeller Center and we had 3 shows a day for weeks. They would usher the people in, we would play and they would usher the people out for 3 shows a day. We, the drummers, were so tired, we slept in bed with our arms above our heads, because Tito's [Puente] professional drive made us work very hard. Willie Bobo was the bongo player at those performances and Willie Bobo told me that he was going to ask Tito to slow it down because our hands hurt so bad. So Willie Bobo went up to Tito Puente and asked him if he could play slower tunes in the next set, because our hands were hurting and we were very tired….. Well, Tito Puente replied "Sure". Aguabella said, " we were all so happy because Tito Puente was going to slow down the tunes on the next musical set and we would not have to work so hard". So back to the stage they went for the next performance, and Aguabella chuckled, "Tito Puente, the driving force that he was, counted the tune faster than ever and he made us play harder and really cook musically on stage. Oh Tito, and he would laugh".
I was one of Francisco's batá drum students and encouraged him to make more Afro-Cuban Folkloric recordings, because once he was gone someday, the music/drumming would be lost, especially the batá drumming, since Francisco was from Matanzas, Cuba and played a different style of Batá drum. Francisco had preserved the batá drumming rhythms correctly as he was taught, as a young man, from his Branch /Group (Rama). About six months later, Francisco came to my house and presented me with a 3 cassette commercially made packages of tapes of Francisco y Sus Tambores Batá. I guess he took my advice and after that he recorded a couple other Afro-Cuban Folkloric CDs in his name with Afro-Cuban Folkloric Rhythms.
When Cesar's Latin Club closed down in the 1980's, at that time Francisco lived in in Oakland, California in a home by Lake Merritt. Francisco moved to Venice Beach in Los Angeles, where he had his own home. Inside his home was a large statue of St. Barbara whom some Cubans also know as Chango (or Xango in Brazil or Sango in Nigeria). Chango is the patron spirit of the drum in Nigeria and in Cuba and also the spirit of fire. Francisco would not work/perform on St. Barbara feast day; he would usually have a party/rumba at his home.
Francisco went on to forming the Francisco Aguabella Latin Jazz Band which still performs to this day. Francisco revealed to me his likes and dislikes of the Latin music industry and his likes and dislikes of musicians. Francisco Aguabella feared no other conga drummer, even with the new fast techniques that were surfacing about, Francisco would chuckle and say, "People want to play the drum….. I, Francisco, have lived the drum". Francisco shared with me his years of lessons as bandleader/music director giving me many tips on musical direction and helped me by providing me with musical arrangements for my Latin Jazz Band.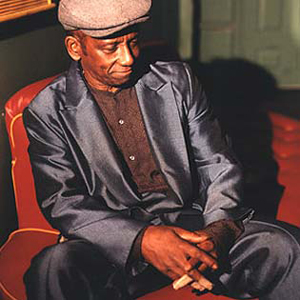 Francisco and I went out to eat often and his love for hamburgers was immense. Francisco said, "no matter where you go eat, sometimes the food you order is not good, but a hamburger…is always good". Francisco had his ups and downs in life like any other musician. We have hearts, souls and feelings too, we are not just musical machines on stage. Musician also have hurts and pains, but like they say, "The show must go on".
There are so many things to say about Francisco you would have to write a book to actually describe it all, like when Francisco played a quinto (lead/solo) drum in carnival comparsas for 9 hours straight, or when he performed at raving shows, with a packed house with all his famous fellow Latin musicians. Every time Francisco talked about Sheila E. (Escovedo) he chuckled and smiled, always admiring her talent and skills as a conga and timbales player.
Francisco Aguabella, was a great personal friend of mine, and my personal batá drum instructor and colleague. Francisco performed with me on various occasions with my Latin jazz band and at clinics at times we performed three shows a day, when he was in town. Francisco was a very humble, and more than knowledgeable gentleman. He had a vast knowledge about the various rhythms in Afro-Cuban Music and the conga drums and batá drums. Francisco is greatly missed. He composed tunes that millions have danced to. All I can say is that Francisco has inspired a world of drummers.
Jaime Zuñiga – Bandleader, vocalist, producer Luv Taxi Productions, Sacramento, California
The first time I heard Francisco was in the Dos album by Malo. The rhythm Francisco and Raul Rekow were throwing back and forth was just awesome. I used to listen to that album over and over; true Latin Music. The first time I saw him [Aguabella] in concert, he just blew my musical mind. I've seen him in concert many times over the years and it was always a new and inspiring experience!!!!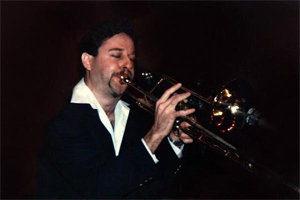 Gary Eisenberg – Trumpet, arranger, musical director, Los Angeles, California.
It would take a lot more than a few words, but I'll try and keep it brief. I first worked with him when we were both sidemen with Johnny Nelson's Orch, back in the mid-seventies. Some years later, I was a sideman on his band, did a couple of arrangements for him, and a few comparsa gigs that he had going. I eventually left to work with various other bands, but came back as his musical director at some point during the late eighties.
He was a remarkable conguero and demanded that his sidemen play with the same level of energy as he did – which was a very tall order. He would tell each of us when to solo, and would expect us to keep soloing until he told us to stop. I remember one night at Miami Spice, he took at 20-minute solo by himself, no band behind him. It was spellbinding. I'll never forget that night. He was a many of very few words, but when he spoke with those drums, the value of words seemed to evaporate. I was a very lucky person to have known him, and even more so, to have had the honor of sharing the stage with him and serving as his musical director for a spell. May his spirit rest in peace.
Joe Conzo Sr., author of the book Mambo Diablo-My Journey with Tito Puente, New York City
I have hung out with him (Francisco Aguabella), Tito (Puente) Eddie (Palmieri) and when Francisco came to New York; we would have drinks and b.s. I also have a live tape with him doing a solo on the tune 'Muñeca' with Eddie Palmieri.
Francisco was really down to earth, not like the stars today. You could talk to them about anything. I was very fortunate to know them, Machito, Tito (Puente), Aguabella, Buyu (Jose Manugal Sr.), Mongo Santamaria. I think back sometimes about my life and all the famous wonderful musicians I met in my lifetime. They were accessible and not everyone got to know and meet them. I got to meet all of them.
Tito Puente's "Dancemania" album is one of the top 25 records of the 20th century, we are in the 21st century. Dancemania hit to #12 or #13 and this was voted by the New York and L.A. Times. No other Latino hit the top 25 besides Tito (Puente), not even Sinatra was in the top 25.
Francisco composed many tune for Tito (Puente) but two of Aguabella's tunes that he composed on the "Dancemania" album, "Complicacion" and "Agua Limpia Todo" , when Tito(Puente) played them the people really danced there ass off.
All I got to say is that, you know, Aguabella, is in good company! (With Tito Puente and others).
JR Alvarez – born to parents from Ponce and Mayaguez (Puerto Rico) in Brooklyn, New York 11/19/1958. Percussionist, Latin, Jazz, Folkloric, Audiophile collector.
I first heard Francisco Aguabella on a recording from Mongo Santamaria – Yambu: Mongo Santamaria y Sus Ritmos Afro Cubanos an afrocuban recording on the Fantasy label 1958. In 1971, I was 13 years old. My mentor Fred "Tims" Munar had turned me on to the LP and singled out Francisco for his contributions on the LP and Mongo Santamarias group. I had to be schooled to listen and single out Francisco when he collaborated on drumming projects, particularly with Mongo!
Ever since then I was hooked. I'm sure I heard him before that but at 13 I was old enough to focus with a teacher on what I was listening to. Folkloric drumming like this blew me away because it touched on a soulful level unlike any other music of the time did for me. This kind of drumming wasn't available to a 13yr old in the streets of Brooklyn, New York. He had a way of melding Abakua rhythms and others in a very modern way even in a Latin jazz setting. Authenticity always prevailed on recordings like on the Tune Afro Blue with Mongo 1959.
Personnel:
Mongo Santamaría- congas, bongos, percussion
Willie Bobo- Timbales
Pablo Mozo- Cencerro, palitos, triángulo, percussion
Carlos Vidal- congas, percusión
Francisco Aguabella- congas, percussion
Modesto Durán- congas, percussion
Al McKibbon- Bajo
Israel Del Pino- Vocales, Mercedes Hernandez- Vocales
Janine Santana, conguera (conga drummer), Latin Jazz bandleader from Denver, Colorado
Strong, clarity, ancient knowledge reads through his drumming. Groove, feel is so beautiful…can't hear that in too many other players like I can in Francisco Aguabella's drum work. Many have great technical prowess and accurate meter/speed…but he has all of that AND great "feel" and groove.
His knowledge, confidence and joy in these beautiful instruments are given in the music. His attitude and power evoked when he plays have touched me deeply, I know that my way of playing the congas I sit behind is influenced by him profoundly…It's an emotional thing I recognize in his conga work that I feel in mine too when I play well. I can't say that about any other…except for Mongo.
My heart soars in those moments… and I feel a gratitude for his influence. I am merely speaking of the secular drumming, but I am also grateful for his knowledge and dedication to spiritual drumming and life as a guardian of sanctified drums. In my recording Soft as Granite, I covered Aguabella's "Wood Place" with great fondness. Every time I play it at a performance I acknowledge him as a deep influence on my approach to the congas and this beautiful thing we call Latin Jazz.
Miles Perlich – Host of United Groove, Kjazz 88.1fm Los Angeles
"My name is Miles Perlich, I host the radio show United Groove on Kjazz 88.1fm in Los Angeles. I feature a healthy dose of Afro Cuban sounds on my program, being a conguero myself and having learned the rich history of Afro Cuban Folkloric rhythms while studying percussion in La Habana, Cuba.
I was well aware of Maestro Aguabella's legacy and I would always make sure to see him in action every chance I got.
One occasion that has always remained fresh in my mind was when Aguabella was performing at Chadney's Night club as part of KLON's Latin Jazz Club Caravan. Francisco had a spectacular group that night, with Nengue Hernandez also on percussion.
The bands were supposed to stop at 1:50am so that all of the Club Caravan folks could catch their last bus home, but at 1:55 and inspired Aguabella started to pull out his Batá drums, and then things really heated up! As soon as he hit the Iya (large Batá drum) everything changed. His spirit was completely rejuvenated and this powerful energy swept through his entire band!
The percussion exchanges between Francisco and Nengue were awesome, and the audience was absolutely entranced! It was truly inspiring to see authentic Afro Cuban drumming played at this level and blended beautifully with the jazzy arrangements. The band finally finished their set at about 2:15, and having missed the last bus, many of the audience members had to find alternate routes home that night, but I think it's safe to say that nobody left disappointed!
Although this took place over 15 years ago, whenever I hear someone mention maestro Aguabella, I always think of this night. Gracias, Maestro. Que descanse en paz."
Nerio De Gracia – Latin Jazz pianist, vibraphone, Latin Jazz band leader, San Francisco, California.
Francisco Aguabella was a great man, I had the great honor to perform in his band and also be a personal friend of his. I guess I could say that I am from the Francisco Aguabella School of Music. There are only few that have been lucky enough as I have to personally and closely have attended. I also recorded with Francisco and can say that Francisco liked all of my personal compositions that he recorded it on his album! Miss you Francisco as well as all do!
Wilson Chembo Coronel – conga Drummer, New York City
When you talk about Francisco Aguabella I also think of Mongo, Armando, Patato, Tommy Lopez, Ray B., these pioneers of the drum are my source of inspiration till this day. Francisco Aguabella is truth, real and the spirit of the drum!
—
I would personally like to thank all the individuals and musicians that took time to remember Francisco Aguabella and write articles for this great tribute. Thanks again! Les Moncada
Author:
Les Moncada
Les Moncada is a Latin Jazz orchestra leader and conguero for over 40 years. He was born in Oakland, California and currently resides in Sacramento, California.
Les Moncada is a student of conga and batá master Francisco Aguabella, a friend of the late promoter Bill Graham, vibraphonist Cal Tjader, Latin Jazz band leader Pete Escovedo, conguero Mongo Santamaria and many, many more.
He has been writing for many years for World Music Central.
Les has several Facebook sites: Timbales and Congas Bongo Bata & bells; Conguero, Professional Conguero & their Instrument; Bongocero, Professional Bongocero their Instrument; Alambres Dulces, Tres, Cuatro & Laud