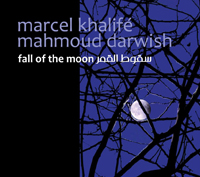 Marcel Khalife
Fall of the Moon (Nagam Records, 2012)
Listeners dipping into Marcel Khalife's double CD Fall of the Moon will surely find a cool elixir to slake their musical thirst in this wide-ranging landscape of Middle Eastern, jazz and classical inspirations – all of it soothed by the poetry of Mr. Khalife late friend and collaborator Mahmoud Darwish.
Compositions hung with the riches of Mr. Khalife's oud, the musical wealth of the Al Mayadine Ensemble and the Kiev Philharmonic Orchestra and the stunning vocals of Oumaima Khalil make for a powerful combination on Fall of the Moon. Finding musical homes for Mr. Darwish's poetry and bending the oud to his will, Mr. Khalife soars across musical genres without a care, creating a sound that is at once sweet and then melancholic, powerful and then bitter sweetly intimate.
Composing the whole of Fall of the Moon, Mr. Khalife opens the first CD with the silky "The Pigeons Fly" before slipping into the wonderful fullness of "And We Love Life." Listeners get the full range of wonderful on CD one with such tracks like the instrumental "The Stranger's Bed" with stunning cello work by Fabio Presgrave, or the sparely wonderful "Oh, My Proud Wound" sung a capella by Oumaima Khalil.
Other notable tracks include the richly worked "Houriyeh's Instructions," the jazz inspired "Jahar Kah" and the poignantly worked "Two Guitars." The second CD is overflowing with goodies like the jazz and classical entwined instrumental title track "Fall of the Moon," as well as the Middle Eastern flavored "A Song on My Mind" and "Her Eyes."
"The Poem of the Land" is fantastically wonderful with layered instrumentation and vocal chorus, as is the instrumental "Palestinian Mawwal." For those interested in Mr. Darwish's poetry have only to look to the liner notes where English translations are printed.
Marcel Khalife's Fall of the Moon is vibrantly dense with musical emotion and satisfyingly exotic.
Author:
TJ Nelson
TJ Nelson is a regular CD reviewer and editor at World Music Central. She is also a fiction writer. Check out her latest book, Chasing Athena's Shadow.
Set in Pineboro, North Carolina, Chasing Athena's Shadow follows the adventures of Grace, an adult literacy teacher, as she seeks to solve a long forgotten family mystery. Her charmingly dysfunctional family is of little help in her quest. Along with her best friends, an attractive Mexican teacher and an amiable gay chef, Grace must find the one fading memory that holds the key to why Grace's great-grandmother, Athena, shot her husband on the courthouse steps in 1931.
Traversing the line between the Old South and New South, Grace will have to dig into the past to uncover Athena's true crime.