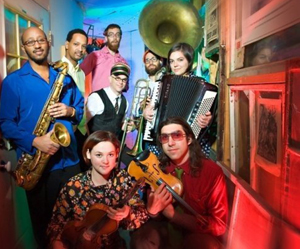 globalFEST, an influential North American world music showcase and festival is taking global music to Bonnaroo on Saturday June 9, 2012. The not-for-profit globalFEST, oversees the globalFEST Touring Fund, which provides much needed tour support for local and international artists to reach new markets throughout the US.
"Part of our goal has been what I half-jokingly refer to as 'infiltration.' We've been successful in moving world music to the center of the conversation in the performing arts world," globalFEST cofounder Bill Bragin notes. "In recognition that the touring ecology for global music moves between non-profit performing arts centers, festivals and commercial venues, we've now started to work on infiltrating the more commercial music field as well, especially targeting younger audiences."
"Through globalFEST's 'infiltration' success, we are acknowledging that a younger audience now exists for world music," globalFEST coproducer Shanta Thake adds. "Bringing globalFEST to these festivals is working to fill an actual desire of festival audiences to see these world music bands in venues and festivals that they frequent."
"I've attended globalFEST in January in New York every year for many years now, and I'm always blown away by the music that I discover there," enthuses Ashley Capps, Bonnaroo co-founder. "The curators behind globalFEST are deeply aware of the most exciting music being created throughout the world, and they'll bring a strong vision and more than a little magic to the World Music Tent at Bonnaroo this year."
"Bonnaroo represents a huge leap forward – to reach some of the most active, and open-minded indie-music audiences at one of the most beloved and best curated festivals in the country," says Bragin.
"globalFEST's role in developing audiences for a wide variety of international music styles and to encourage artistic risk taking in the performing arts field has made significant strides for venues, audiences and artists alike," explains globalFEST co-founder Soffer. "We hope our mission to encourage cross-cultural exchange, support diverse programming, and develop meaningful cultural diplomacy relationships will create new opportunities within the performing arts field and beyond."
Artists Scheduled
Debo Band is not about recreating some mythical gilded age of Ethiopian pop. Taking cues from vintage and contemporary artists unsung in the West, they unleash rolling grooves, serpentine melody lines, and joyful vocals. A sound that won them a record deal on indie stalwart label SubPop/Next Ambiance, produced by Gogol Bordello's Tommy T, which will come nationally in June.
Janka Nabay & The Bubu Gang
Hard-hitting beats from the grand master of Sierra Leonean bubu, an age-old ritual music turned modern hybrid thanks to a Brooklyn-based gang of musicians.
Arby's music shifts seamlessly between the edgy and progressive and the traditional and deeply rooted. She turns to her mixed Berber and Songhai roots, blending ripping electric guitar with the forefather of the banjo and funky drum breaks with the traditional percussion of the scraper and the calabash.
La-33
Colombia's hottest salsa outfit is also its cleverest: on top of pitch-perfect originals, the band has won fans worldwide with its blazing, tongue-in-cheek shout out to the Pink Panther and Henry Mancini.
Pedrito Martinez
The Thelonious Monk International Jazz competition-winning percussionist and former Yerba Buena member has won the hearts of rock stars like Eric Clapton and Roger Waters and honed his groups near-telepathic communication, in music that ranges from traditional batá-rumba to Cuban jazz, son, and timba.
Red Baraat
An impossibly funky, New York-born mix of brass band-does-Bollywood extravaganza, bringing both Indian bhangra beats and red-hot brass to the dancefloor—and more recently to the White House.
The first globalFEST tent will also host Spectrum Road, a supergroup tribute to Tony Williams with Vernon Reid, John Medeski, Jack Bruce and Cindy Blackman-Santana.
Author:
World Music Central News Department
World music news from the editors at World Music Central