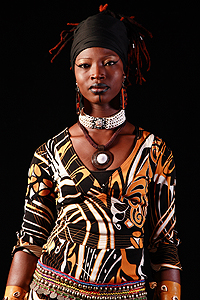 Bordered by five countries, Ivory Coast has no shortage of neighboring influences, or languages come to that (over 75 are listed in the former French colony alone). Dobet Gnahoré draws on her country's relative proximity to musical powerhouses such as Mali, Guinea and Ghana, as well as a rich linguistic heritage.
The latest star to emerge from the troubled republic formerly known as the Ivory Coast has a European edge too, courtesy of a decade-long professional and personal alliance with guitarist Colin Laroche de Félin. The pair first hooked up in the late '90s when the Frenchman went to the Ivory Coast capital, Abidjan, to immerse himself in the Ki-Yi M'Bock Company, a pan-African artist colony co-founded by her father.
Reared by her master percussionist pater Boni Gnahoré in the Bété tradition, Dobet Gnahoré grew up in a musical environment in a village in the centre west part of Ivory Coast. At the age of 12, she moved to the artistic village in Abidjan where she met her husband-to-be. She started her performance career there as a dancer: "I was completely in love with dance, and the energy and emotion that went with it," she conveys via an interpreter, from France, where she has lived on and off for the past decade.
Despite her passion for dance, Dobet was always destined to be a singer. "My grandfather was a singer and my grandmother also sang," she said. "I eventually linked dance and song to create a complete performance. Although my father has never actually played in my group, I played in his band and he has had a strong influence on me musically. He's been very supportive.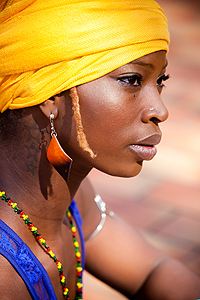 "My husband brings a different influence to my music — meeting him was very important," concedes Dobet Gnahoré. "Other members of my band come from different backgrounds and bring different influences to the music, but [Bété] tradition is at the heart of it."
Dobet sings in an impressive range of tongues, including Bété, Fon, Baoule, Lingala, Malinke and Bambara — some of which she doesn't speak. "I write my songs in French, then I have them translated," she explains. She has also recorded in Senegalese Wolof, South African Xhosa and Congolese Lingala, and also has been known to sing polyphonic Pygmy songs. "The difficulty comes in learning the songs," she says with some understatement.
While Gnahoré grew up Ivory Coast listening to reggae — the country boasts several stars in that genre, such as Alpha Blondy and Tiken Jah Fakoly — the influence of western and pan-African pop is more strongly represented in her music. As with another rising young West African star, Fatoumata Diawara, who was born in Ivory Coast to Malian parents, her sound alternates between folk and funk. She netted a 2010 Grammy Award winner (for Best Urban/Alternative performance) for a duet with American R&B goddess India.Arie on the latter's Testimony: Vol.2, Love & Politics album.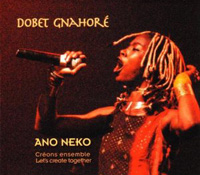 Dobet's debut album, Ano Neko, recorded some half-a-dozen years before the Grammy, had garnered a 'Newcomer of the Year' nomination at the prestigious BBC World Music Awards. Her latest album, Djekpa La You, songs from which she featured at WOMADelaide in March on her maiden visit to Australian, has been praised right, left and centre. The spectacular cover photo, which has her chained, with dreadlock pigtails and wearing bizarre make-up, merits an award of its own. She explains her appearance: "It's a traditional-modern image. I went back to Africa wanting to discover some more traditional stuff so I looked into the omo tradition — it's a tribute where they paint the body with leaves and mud and all sorts of things."
Although the album title translates to 'Children of the World', the lyrics centre on the continent of her birth. "I'm touched by the lives of children in Africa," she says. "I also sing a lot about women and widowed women who look after these children, about the desperation of their lives. Every time I return to Africa from France, I really notice the difference between their lives and ours, and as an artist I must sing about these issues because I give them a voice."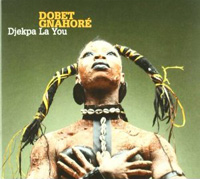 On a href="http://www.amazon.com/gp/product/B003CPGFJ0?ie=UTF8&tag=musidelmund-20&linkCode=xm2&camp=1789&creativeASIN=B003CPGFJ0″>Djekpa La You, Gnahoré's magnificent voice conveys both fragility and strength, depending on the song. Tracks like 'Niletoun' are as funky as anything put out by Benin's Angelique Kidjo. Others such as 'Mouziguie' are more reminiscent of the late, great South African singer Miriam Makeba. On one song, the gentle 'Kokpa', Dobet duets with the extraordinary South African male singer Vusi Mahlasela — "He has the most beautiful voice," she agrees. On another song, 'Evigne', she yields to her popular Ivorian compatriot Soum Bill.
Colin Laroche de Félin's influence is evident in the jazzy 'Beussem', part sung in French. Elsewhere, Congolese soukous and Ghanian highlife are discernible. 'Cote d'Ivoire' receives impressive propulsion from Benin's pumping Gangbé Brass Band, who were also heard to advantage on New York band Hazmat Modine's great new album Cicada.
On stage, Dobet Gnahoré's charisma, honed by her theatrical and choreographic work, shines like a beacon. In many ways, she is the pretender to Afropop queen Angelique Kidjo's crown.
• The above interview first appeared in Rhythms, Australia's only dedicated roots music magazine, for which the author is World/Folk correspondent.
Author:
Tony Hillier
Tony Hillier is based in Cairns in far north Queensland, from where he has been actively involved in all areas of the music industry in Australia for the past 25 years, primarily as a journalist, writing for national publications such as the Weekend Australian and Rhythms magazine (for which he is World Music & Folk correspondent), and performing locally, nationally and internationally with the bands Kamerunga and Snake Gully. He has also presented and produced World Music and Folk music programs for ABC Far North, Port Douglas Radio and 4CCR-FM, netting a CBAA Best Specialist Music Program Award with the last-named for a documentary on flamenco. Before coming to Australia, he was a racing journalist of some repute in the UK, where he wrote a column for the London Evening Standard under the nom-de-plume of Ajax.