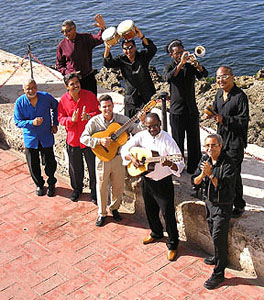 Renowned Cuban band Sierra Maestra is set to perform on Saturday, April 21, 2012 at 20:00 (8:00 PM) at The Town Hall, 123 West 43rd Street, New York City.
Sierra Maestra was founded in 1976 and has played an essential role in the recent worldwide popularity of Cuban traditional music. A leading exponent of the Cuban son tradition, the musical soul of Cuba and foundation of modern salsa, the ensemble has played a key role in reviving and now redefining this infectious dance music for new generations and reintroducing it into the Cuban mainstream.
Sierra Maestra's repertory ranges from classics of the Golden Age to stirring new works and includes selections from its recent album Sonando Ya (World Village).
Sierra Maestra was formed in 1976 by students at the University of Havana, who named their group after the mountain range in the eastern part of Cuba as a tribute to the birthplace of son. It was the first group of the modern era to play in the old-style son line-up from the heyday of the 1920s and '30s – tres, guitar, trumpet, bongo, güiro and vocals. Its revival of son appealed to a new generation of Cubans, and the group garnered attention through playing festivals around the island and appearing on Cuban television.
The ensemble's first recording was Sierra Maestra Llegó con el Guanajo Relleno, in 1981. The following, Sierra Maestra won the Girasol prize for most popular group. In 1983, it recorded the soundtrack to the Cuban television series Las Impuras.
Its song "A Los Rumberos de Belen" was used in Robert Redford's 1988 film The Milagro Beanfield War. In 1995, Sierra Maestra's tres player Juan de Marcos Gonzalez conceived the idea that led to the recording of the Buena Vista Social Club, on which four members of Sierra Maestra recorded. Today, the nine-piece group still has five of its original members: Carlos Puisseaux, Virgilio Valdés, Luis Barzago, Eduardo Himely, and Alejandro Súarez.
Sierra Maestra has maintained an international touring career since the mid-1980s, playing extensively in Europe, Africa and Asia. The ensemble has recorded 16 albums, including its 2010 Latin Grammy-nominated CD Sonando Ya (World Village); in addition, the group has more than 10 singles and can be heard on over 50 compilations.
$45, $50, $55 Ticketmaster (800) 982-2787
Info/tickets (212) 545-7536
Author:
World Music Central News Department
World music news from the editors at World Music Central