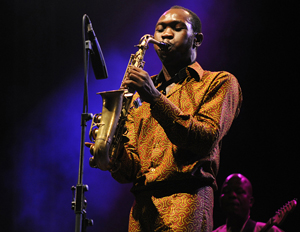 Seun Kuti and Egypt 80 Concert
Duke Performances
Page Auditorium
Duke University, Durham, North Carolina
April 5th, 2012
Loaded with potent African rhythms, a stunning brass section and an explosive set of songs, Seun Kuti and Egypt 80's performance at Duke University's Page Auditorium Thursday, April 5th was everything one could want in way of a concert – a glorious assault on the senses. Roughening up and working over the audience with songs from Mr. Kuti's latest From Africa With Fury: Rise and previous recordings with Egypt 80, the concert thrummed, sizzled and inundated the audience with sheer abandon. Those holding tickets for future concerts in Madison, Wisconsin; Miami Beach, Florida; Minneapolis, Minnesota and New Orleans, Louisiana should guard their tickets because this is a concert that should not be missed.
Egypt 80 kicked off the concert before Mr. Kuti was introduced by keyboardist and musical director Tajudeen Lekan Animasahun for the second number. Chocked full of brass with trumpet players Emmanuel Kunnuj and Olugbade Okunade, baritone saxophonist Adekunle Adebiyi, tenor saxophonist Ayinade Adeniran and Mr. Kuti himself on saxophone, the Duke concert reeled with thickly worked solos and often leaped over the Afro-beat mix into a sultry African jazz.
Rounding out their sound with lead guitarist David Obanyedo, rhythm guitarist Alade Oluwagbemiga and bassist Kunle Justice paired against the driving rhythms of drummer Ajayi Raimi Adebiye, conga player Kola Anasanya Giant, percussionist Wale Toriola and shekere player Okon Iyamba, Seun Kuti and Egypt 80 sizzled and simmered with a series of extended numbers that whipped the crowd out of their seats to dance behind seats or to the stage's edge. Backup singers and dancers Yetunde Sophia George Ademiluyi and Iyabo Adenirian proved to be lovely creatures with more moves than the paint mixer at your local hardware store.
Fusing Afro-beat and jazz, Mr. Kuti and Egypt 80 saturated Page Auditorium with savage goodness and Seun Kuti proved to be a commanding figure with his powerful vocals and sultry saxophone solos, even as his lithe frame moved across the stage at a run or archly worked dance moves. Possessed by the music and hypnotized with the sheer force of the performances, this concert was a kicking good time.
Next tour dates:
4/6 Baltimore, Maryland: Soundstage Tbc
4/7 Hudson, New York: Club Helsinki H1
4/8 New York, New York: Highline Ballroom
4/11 Open
4/12 Madison, Wisconsin: Wisconsin Union Theater
4/13 Miami, Florida: Transatlantic Festival
4/14 Minneapolis, Minnesota: The Cedar
4/15 Indio, California Coachella
4/16: Santa Barbara, California UCSB
4/17 Open
4/18 San Diego, California UCSD
4/19: Berkeley, California Cal Performances
4/20 Los Angeles, California UCLA
4/21 Phoenix / Flagstaff Tbc
4/22: Indio, California Coachella
4/24 Taos, New Mexico: Taos Solar Center
4/25: Albuquerque, New Mexico: Albuquerque Museum
4/27 New Orleans, Louisiana: New Orleans Jazz Fest
4/28 Lafayette, Louisiana: Festival International De Louisiane
4/29 Houston, Texas: Houson International Festival
5/2 New Orleans, Louisiana: House of Blues
Author:
TJ Nelson
TJ Nelson is a regular CD reviewer and editor at World Music Central. She is also a fiction writer. Check out her latest book, Chasing Athena's Shadow.
Set in Pineboro, North Carolina, Chasing Athena's Shadow follows the adventures of Grace, an adult literacy teacher, as she seeks to solve a long forgotten family mystery. Her charmingly dysfunctional family is of little help in her quest. Along with her best friends, an attractive Mexican teacher and an amiable gay chef, Grace must find the one fading memory that holds the key to why Grace's great-grandmother, Athena, shot her husband on the courthouse steps in 1931.
Traversing the line between the Old South and New South, Grace will have to dig into the past to uncover Athena's true crime.