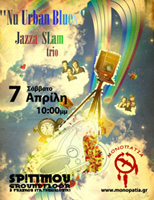 JazzaSlam Trio is set to perform at Spitimou Groundfloor in Thessalonica (Thessaloniki) on Saturday, April 7th, with its new project "NU urban blues". JazzaSlam Trio will be playing original music as covers many famous songs. The group's sound is described as a special kind of Blues, NU (nude), that doesn't copy or cling to the past, but sings and expresses world slavery, the global post-industrial "cotton plantation" with millions of slaves who lost the dream of freedom by consuming.
The show includes visuals (screening of edited videos), music, theatrical scenery and minimal interference with text that shares and acquires dimensions that transcend the mere concert.
JazzaSlam Trio features Jazza Slam on guitar, vocals, composition, audiovisuals; Giannis Chrisochoidis on tuba; and Dimitris Tripsianis on guitar.
Spitimou Groundfloor is located at 3 Fragkon Street in Thessaloniki, Greece
More information at http://www.monopatia.gr/?p=1482&lang=en
Author:
World Music Central News Department
World music news from the editors at World Music Central