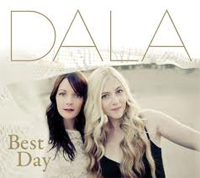 Canadian folk pop sensation Dala are set to release their 5th Album, titled Best Day on May 29. Dala is the two-piece award winning duo of Amanda Walther and Sheila Carabine.
With sumptuous intertwining harmonies, the duo underscores the folk-pop album's "life is short" message with accompaniment from piano, guitar, ukulele and minimal drums.
Dala's previous recordings include "Everyone Is Someone" released in 2009. In 2010 they released the live album "Girls From The North Country."
Throughout their career Amanda and Sheila have toured tirelessly, building their following the old-fashioned way, turning first time listeners into die-hard fans, winning 5 Canadian Folk Music Awards and a Juno nomination.
Dala has played all over North America and for the highest profile music festivals, among them New Orleans Jazz Fest, Philadelphia Folk Festival, Denver's Swallow Hill, the Lowell Summer Concert Series, Strawberry Music Fest, Sisters Folk Festival the and 50th Anniversary of the Newport Folk Festival in 2009 – where Dala were the only Canadian act invited to play.
Last summer Dala hosted a PBS special primetime concert titled "Girls From The North Country" which aired all over North America.
Author:
World Music Central News Department
World music news from the editors at World Music Central