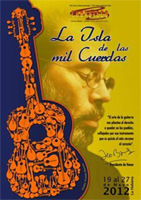 Groups and soloists from 12 countries, including Spain, Argentina and Germany, have so far confirmed their attendance to the upcoming International Fair Cubadisco 2012, which will run from May 19 through May 27.
The fair, dedicated to the guitar, will also be attended by representatives from Chile, Uruguay, Venezuela, Paraguay, Mexico, Ecuador, Panama, Costa Rica and Puerto Rico, the latter with a large delegation headed by singer Danny Rivera and the group Mapeyé.
At a press conference last week, the president of the show, Ciro Benemelis, announced the organizing committee has already begun to evaluate more than 190 musical productions in 44 categories, and another 60 who aspire to an International Award nomination, including album "Hands All Over" by the Puerto Rican group Calle 13.
As a innovation, the fair will open its spectrum to alternative and independent music labels, representing some Cuban artists living abroad.
This edition, dubbed "The island of a thousand strings," pays tribute to three great exponents of the guitar genre: Ñico Rojas, Vicente Gonzalez Rubiera (Guyun) and Compay Segundo, in the framework of the 105th anniversary of his birth.
With the guitar as the epicenter and composer Leo Brouwer as honorary president, the fair will be inaugurated to the rhythm of 11 members of the German Bavarian Orchestra, directed by Walter Abt, accompanied by the National Symphony Orchestra.
A great trova concert that will link exponents of several generations, a violin vigil and a concert of female guitarists, will be among the proposals of Cubadisco 2012, which has become the largest record meeting of Cuba.
Source: Prensa Latina
Author:
World Music Central News Department
World music news from the editors at World Music Central