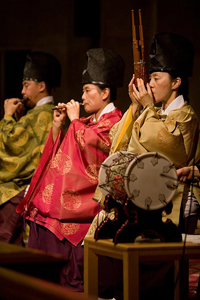 The Institute for Medieval Japanese Studies will present the music concert "Japanese Sacred Gagaku Court Music and Secular Art Music: Ancient Soundscapes Reborn – Glories of the Japanese Music Heritage." The event will take place on Friday March 30th 2012, at 8:00 pm at Miller Theatre, Columbia University, 2960 Broadway at 116th Street, New York city. This event is free and open to the public.
Gagaku music is the oldest orchestral music in the world today with a history in Japan of more than 1300 years. The March 30th concert will feature members of the renowned Reigakusha Orchestra: Mayumi Miyata on the shō (17-pipe free-reed mouth organ), Hitomi Nakamura on hichiriki (double reed vertical flute), and Takeshi Sasamoto on ryūteki (transverse flute).
The Columbia Gagaku Instrumental Ensemble of New York and New York-based Hōgaku artists Masayo Ishigure on shamisen and Elizabeth Brown on shakuhachi (end-blown bamboo flute), joined by the Momenta Quartet (violins; viola; cello), will perform from the classical repertoire as well as contemporary prize-winning compositions.
Author:
World Music Central News Department
World music news from the editors at World Music Central