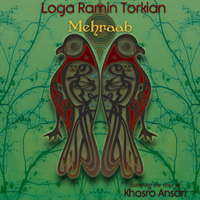 Loga Ramin Torkian
Mehraab (Six Degrees Records, 2012)
Iranian composer and musician Loga Ramin Torkian's debut solo recording Mehraab is a densely rich musical landscape that is both exotic and entrancing. World music fans will know Mr. Torkian's work through the groups Niyaz and Axiom of Choice. His work can also be heard on the major film scores of Body of Lies, Iron Man and Prince of Persia, as well as worked with composers Harry Gregson Williams, Hans Zimmer and Ramin Djawdi.
The music of Mehraab is evocative and tightly woven with instruments from the kanoon, guitar viol, saz, baglama, electric guitar, bendir, riq, darbuka, tombak, santour and nagada with musicians Ziya Tabassian, Mohammad Mohsen Zadeh, Azam Ali and Andre Harutounyan with vocalist Khosro Ansari tipping mere richness into something fantastical.
Mr. Torkian explains the recording, "Now that I look back, I would not have been able to do this recording any other way. Although I used many modern sound-processing techniques, I did so only to expand on the frequency range of my natural instruments. I wanted to create a palette of colors with which I could weave together a sonic spectrum not commonly heard in traditional Iranian music. But more than anything, I wanted for the music to be an almost visual experience."
Persian music fans dip into the sultry sound from opening track "The Wild Deer" and all the way through to closing track "Your Bewitching Eyes." Each track is hypnotizing and artfully worked. Tracks like "Through the Veil," "Garden of the Beloved" and deeply satisfying "Shrine" make Mehraab a must-have for music fans. Cinematic in feel, Mehraab thrums with secret power that only music can provide as in the stunning tracks "Compassion" and "The Burning Heart."
Mehraab means shrine and Mr. Torkian finds a musical solace as he explains, "In the case of this project, the shrine for me is a sanctuary, a place to lose myself in and a place to experience a truth free of dogmatic ideologies. Music in the end should function as such a place for all of us. A place we can come to, to be truly free."
Author:
TJ Nelson
TJ Nelson is a regular CD reviewer and editor at World Music Central. She is also a fiction writer. Check out her latest book, Chasing Athena's Shadow.
Set in Pineboro, North Carolina, Chasing Athena's Shadow follows the adventures of Grace, an adult literacy teacher, as she seeks to solve a long forgotten family mystery. Her charmingly dysfunctional family is of little help in her quest. Along with her best friends, an attractive Mexican teacher and an amiable gay chef, Grace must find the one fading memory that holds the key to why Grace's great-grandmother, Athena, shot her husband on the courthouse steps in 1931.
Traversing the line between the Old South and New South, Grace will have to dig into the past to uncover Athena's true crime.