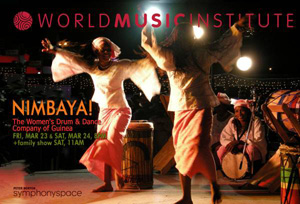 Nimbaya!, the first all-women's percussion and dance troupe from Guinea is set to perform on Friday, March 23 & Saturday, March 24, 2012 at 18:00 (8:00 PM) at Peter Norton Symphony Space on Broadway at 95th Street in New York City.
A daring response to the taboo of women playing the jembe in West Africa, Nimbaya, formerly known as Amazones Women Master Drummers of Guinea, was created in 1998 by Mamoudou Condé of Les Ballets Africains fame. The ensemble is renowned internationally for its breathtaking drumming and high-energy dances — both traditional and contemporary — and exciting footwork. These concerts mark Nimbaya!'s first New York appearances.
Before Nimbaya! was formed, females in Guinea were not permitted to learn the art of jembe drumming. In 1998, with the support of the Department of Culture of Guinea, group founder Mamoudou Condé brought together 15 women from the four different regions of Guinea. Some of the women faced disownment from their families for pushing the boundaries of tradition, but after training for years to become master drummers, the women began to tour the world — appearing in over 15 countries and at major festivals, including the New Orleans Jazz Festival and Montreal's Festival International Nuits d'Afrique. The troupe first toured the United States in 2004, and returned in the 2006-7 season.
The troupe's name originates from the Nimba mask, which holds great significance in West African culture. Representing a woman at her zenith of power and beauty, the mask embodies the mother of fertility, the joy of living, and the promise of abundant harvest. The troupe pays tribute to women by choosing Nimba as a namesake and symbol of feminine beauty, strength, fertile abundance and integrity.
The group's family show, with its combination of exuberant drumming and dance, exposes children to the beauty of African arts and provides a perfect opportunity to introduce children to the joy of live world music and dance. The show has been a major draw at international festivals, including the renowned children's festivals in Seattle and Edmonton, Canada.
Nimbaya! dedicates its evening performances to women of all ages, cultures, social and economic status, religion, color and ethnic background, aiming to empower women to take control of their lives. In these performances, in addition to the troupe's acclaimed repertoire, Nimbaya! premieres a new work to raise awareness about female genital mutilation (FGM) — a practice that is deeply rooted in the traditions of a number of societies worldwide. Speaking out through their music, storytelling and choreography, the members of Nimbaya! hope to eradicate FGM.
In addition to the Symphony Space concerts, Nimbaya! will be part of a New York University (NYU) symposium on female genital mutilation on Sunday, March 25, 1:30-3pm at the new Global Center for Academic & Spiritual Life, 238 Thompson Street at Washington Square South. The program, open to the public, will include a panel discussion with members of Nimbaya! and NYU faculty. Free admission.
Family Show: Saturday, March 24 @ 11:00 AM
Saturday morning family show is a co-production with Symphony Space's "Just Kidding" series.
Peter Norton Symphony Space, Broadway at 95th Street, NYC
Evening shows: $30, $40; students $20
Family show: $25 adults; $15 children
Box office (212) 864-5400 * Tickets/info (212) 545-7536 * www.worldmusicinstitute.org
Author:
World Music Central News Department
World music news from the editors at World Music Central