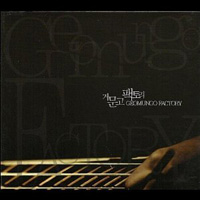 Geomungo Factory
Metamorphosis (Dada Media, 2012)
Every once in a while I get a CD that is truly astonishing, I mean something that stops any bit of office business or fidgeting and commands my whole attention. Well, South Korea's Geomungo Factory's Metamorphosis is one of those astonishing recordings. On the few occasions I've received a Korean recording for review, I've been captivated by the sheer delicacy and precision of the music, but Geomungo Factory pushes pure wonderment into something I can't even begin to explain.
For those of you who need to catch up, played with both hands the geomungo is a six-stringed instrument with 16 fixed frets and 3 movable bridges. "The left hand is used to press the string down on the frets, and to create a unique ringing sound by pressing the strings down from the top fret. It is also played with the right hand using a bamboo stick called suldae, making a sound by hitting or plucking the string." Essentially, the geomungo is a zither. It is thought to have dated back to the 4th century and originated from modifications made to the Chinese guqin.
Musicians and composers Mi-Young Yu, Jeong-Sek Lee and Ein-Ryoung Jung make up Geomungo Factory with additional project member musicians Jae-Ha Lee, Geun-Ae Kim and Hyun-Jun Jeon rounding out the sound.
Taking the traditional and transforming it into the stellar for world audiences, Geomungo Factory captivates the listener with finely drawn pieces like opening track "Jirirariru," that at first strikes one as delicate but takes on an underlying power as the music progresses. Equally good is "Movement on Silence" with its almost bluesy sensibilities. Listeners get some stunning surprises with the fabulous "Geomungo & Tango" and "The Starry Night," as a Korean homage to Tchaikovsky's "Dance of the Sugarplum Fair."
Chocked with goodies like "Dream of the Tree," the poem inspired "Sky, Wind, Star and Poem" and the boldly worked "Fly to the Sky," Metamorphosis is a treasure trove for enthusiastic music fans looking something new and exciting.
Sketching out a sound that is wholly fresh and delightfully daring, Geomungo Factory's Metamorphosis is deliciously good.
Buy Metamorphosis
Author:
TJ Nelson
TJ Nelson is a regular CD reviewer and editor at World Music Central. She is also a fiction writer. Check out her latest book, Chasing Athena's Shadow.
Set in Pineboro, North Carolina, Chasing Athena's Shadow follows the adventures of Grace, an adult literacy teacher, as she seeks to solve a long forgotten family mystery. Her charmingly dysfunctional family is of little help in her quest. Along with her best friends, an attractive Mexican teacher and an amiable gay chef, Grace must find the one fading memory that holds the key to why Grace's great-grandmother, Athena, shot her husband on the courthouse steps in 1931.
Traversing the line between the Old South and New South, Grace will have to dig into the past to uncover Athena's true crime.