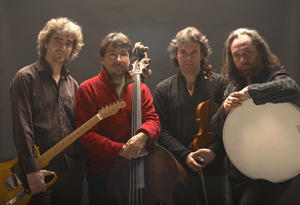 Showcase Scotland took place January 25-29 in Glasgow (Scotland) as part of the 18th edition of the Celtic connections Festival, a splendid Celtic music festival that lasts a month.
"Showcase Scotland" is a an artistic showcase designed for the international delegations invited to Celtic Connections. Its mission is the international promotion of Scottish artists and providing a stage for emerging artists. The showcase features some high profile Gaelic concerts and each edition includes artists from a guest country. In this occasion, Catalonia was the guest.
The six Catalan artists that participated at the showcase were personally selected by the festival's artistic director, Mr. Donald Shaw, a founding member of Scottish folk rock group Capercaille. The line-up included vocalist Lídia Pujol, contemporary folk group Sol i Serena, female act Las Migas, ethno-jazz ensemble Domini Màgic, La Carrau, and traditional folk duo Jordi Molina & Pere Pau Jiménez. All of them shared the stage with carefully selected international artists.
The "Showcase Scotland" began on Wednesday, January 25th at several venues. One of them was the "Old Fruitmarket", a former fruit market that was recovered for cultural use. Catalan band Domini Magic played there. The second part featured a great legend of pop and rock, Jack Bruce, founding member of the legendary 1970s band, Cream.
Domini Magic is a Catalan band that researches roots music through various styles, such as a jazz and classical music, creating sensual atmospheres with a daring personality. A very receptive audience rewarded them with loud applause.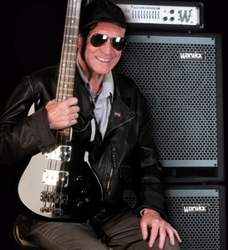 Veteran musician Jack Bruce, who released ten solo albums after Cream, is considered one of the best electric bass players in the world. In addition to using the bass as an accompanying instrument, Bruce plays solos and melodies. This musician born in Bishopbriggs, which is now a Glasgow neighborhood, has a bond with Celtic music that dates back to his childhood. At 10, he won a Gaelic song contest in Glasgow. There was a lot of expectation about his concert at this festival, since he hadn't performed in his hometown in many years. He started his performance on the piano accompanied by the Mr. McFall' Chamber quartet. After four pieces, the band Lau entered the stage, with his son Nico Bruce. After nearly two hours of performance, he picked up the electric bass and played some of the most symbolic songs from his Cream stage, such as "Sunshine of your Love" and "Strange Brew." At the end he told us how moved he was by having performed at Celtic Connections festival, in front of his fellow citizens and friends.
The welcoming reception for the international delegates took place on Thursday the 26th. There were greeting speeches by various dignitaries, including Mrs. Fiona Hyslop, Minister of Culture and Foreign affairs of the Scottish government. At night, the program continued with various concerts.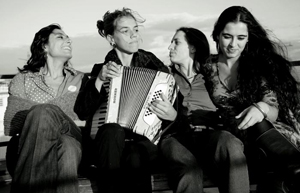 On Friday, January 27th, we had two concerts with Catalan artists. One venue featured the Jordi Molina i Perarnau Jiménez duo, and on another stage, female band Las Migas. Jordi Molina on tenora and Perepau Jiménez on diatonic accordion played at the National Bagpipe Museum. They performed a concert of traditional Catalan music with the solid musical precision that they are known for. It was followed with great interest by an audience expert in folk music and roots music instruments. They were followed by the duo formed by Scottish flutist Calum Stewart and Breton guitarist Heikki Bourgault. Meanwhile, at "Strathclyde" hall, in Glasgow Royal Concert Hall, female group Las Migas played as opening act for Irish Singer and flautist Nuala Kennedy. The audience really enjoyed the performance by Las Migas, which is basically a female flamenco fusion group. They were followed by Nuala Kennedy, with her powerful group, who used audiovisual projections. Nuala Kennedy is a singer and virtuoso flute player. She was born in Northern Ireland although she's lived in Scotland for many years.
On Saturday 28, at noon, there was an official reception for the Catalan delegation. There were brief speeches, including one by Mr. Ian Smith, Music Director of "Creative Scotland", who announced that the guest country next year will be England. There were also speeches by the festival's artistic director Mr. Donald Shaw, and ICIC (Catalan Cutural Enterprises Institute) director Mr. Félix Riera. At night, we had two more concerts, one by the band Sol i Serena, and the Lídia Pujol performance.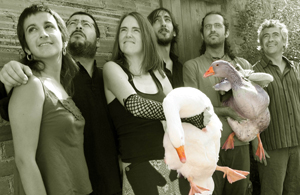 Sol i Serena showcased at "o2 ABC" club, a former movie theater renovated as a space for live music concerts and very appreciated by the Scottish public. Sol i Serena, one of the contemporary Catalan folk music groups in better shape, featuring its charismatic singer and accordionist Marta Rius, presented a sampling of their repertoire, which includes primarily original compositions and traditional pieces. Their concert was impeccable, with an ovation by a young audience, very committed to having a good time. They were followed by Scottish group Blazin' Fiddles, a fiddle group from the Scottish Highlands. About this group I'd like to highlight the rhythmic energy that they provided on stage, leading people to dance on the venue's dancefloor.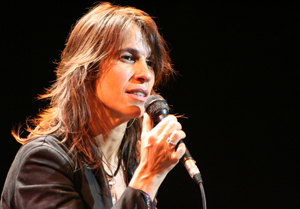 An hour later, at the "Tron Theatre", a small theater with an intimate atmosphere, where normally they present classical concerts and musical works, Barcelona singer Lídia Pujol appeared on stage. She was accompanied by excellent musicians: Pau Figueres on guitar, Dani Espasa on piano, and a surprise…Irish flute player Brian Dunning, a founding member of the defunct band Nightnoise. Encircled by these great artists, Lídia let her sensibility and dramatic power flow performing some songs from her rich repertoire that includes folk, Medieval, Celtic and contemporary acoustic. Her program generated a strong and hypnotic attraction towards the audience, impossible to break up. At the end, she received a warm and loud ovation from an audience that filled the theater and tried to to get an encore. Lídia Pujol, once more, demonstrated that she is the Catalan artist with more international projection. She was followed by Annie Grace, singer and performer of the Scottish bagpipe, accompanied by three musicians. Hailing from Fort William, Inverness, Annie Grace has been living in Glasgow for twenty years. In the 1990s she was a member of the popular Celtic folk-rock band Iron Horse. In 2004 she started her solo career. Her music is a fusion of folk song, jazz and blues. She used the concert opportunity to perform some pieces from her latest album "The Bell".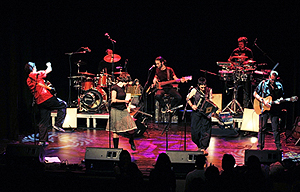 Sunday, January 29th was the last great concert of this showcase, presented at the sparkling stage of the "Glasgow Royal Concert Hall." The concert featured La Carrau, from the city of Terrassa, and Serbian group Emir Kusturica and The No Smoking Orquestra. La Carrau opened this closing party with its Catalan rumba and Latin rhythms, a meeting point between various genres, including world music and Catalan tradition. A fusion that guarantees the urge to dance… as it happened. The audience eager to party had to limit themselves to participating with loud clapping and following the rhythm with their feet since the hall seating made dancing impossible. Back in Barcelona, the band members told me that they avenged this programming "handicap" with a second concert that same night at a popular club called Apollo, where they accomplished their wish to make people dance with total freedom and sing along their songs with an audience eager to party. A somewhat surrealist closing, which the artists described as, "Two stages with different, but with similar intensity. Brutal".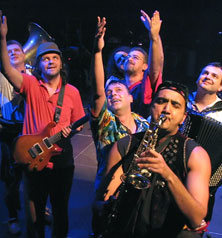 An hour earlier at the same "Glasgow Royal Concert Hall", Emir Kusturica and The No Smoking Orchestra was the act in charge of closing "Showcase Scotland". With its powerful Balkan Gypsy rhythms and spectacular stage setup, the Serbians suffered something similar to what happened to their opening act, La Carrau. Limited by the venue, the audience's urge to dance and surrender itself to the cathartic sound force projected by this band was frustrated. Its leader, Nemanja Emir Kusturica, is better known under his artistic name Emir Kusturica, a popular film director. On his musical side, he is currently accompanied by The No Smoking Orchestra. Regarding this closing night, several voices criticized the organizers, including Kusturica's. This criticism was reasonable, since knowing about the festive dimension offered by these two groups, it should have been held at a space that was better suited to the circumstances.
To end this review, I'd like to mention that the Catalan delegation, formed by a select group, led by the participating artists, their managers, media (Catalunya Ràdio and TV3 correspondents), and the institutional dignitaries that traveled to Scotland , were very satisfied and enthusiastic about the good impression received by the various professional and international delegates. Now we need to translate all this talent that was exposed into contracts.
Author:
Albert Reguant
Albert Reguant is a Catalan journalist, born in Barcelona. He is a member of the workshops of folk music and world music of the European Broadcasting Union (UER/EBU) as well as well as a member of the "World Music Charts Europe". He has a radio show called Les Rutes del So at Ona Sants Montjuïc de Barcelona.
Website: http://www.wmce.de