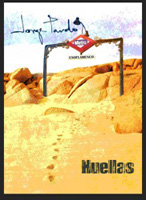 Jorge Pardo, the influential saxophone and flute player, that introduced a new sound to Flamenco, has a new double album titled Huellas.
The new recording contains 18 original compositions featuring over 50 renowned Spanish and international musicians from the areas of jazz and flamenco. You can listen to the album and buy MP3s on Pardo's site. The CD version will be out later this month.
Musicians on Huellas include Enrique Rodríguez, Diego Guerrero, Rafael Navarro, Martín Leitón, Jeff Ballard, Sergio Martinez, Antonio Restucci, Pedro Sanz, Nasrine Rasmani, Victor Mendoza, Agustin Carbonell "El Bola", Raul Rodriguez, Pablo Baez, Juan Grande, Antonio Rivero, José Fdez Torres "Tomatito", Dave Samuels, Pablo Martinez, David Pastor, Niño Josele, Moises Santiago, Javier Colina, Carlos Carli, Mati, Othello Molineaux, Juan Diego Mateos, Pedro Garcia "El Brekon", Antonio Serrano, Lorena Alcaraz, Luis Balaguer, Jerry Gonzalez, Carlos Gomez, Luismo Valladares, Josemi Carmona, Enric Monfort, Ruben de Rosario, Dani Parra, Antonio Gomez, Richard Sprince, Tino di Geraldo, Carles Benavent, Luis Amador, Juanmi Guzman, Paquete, Gil Goldstein, Santi Ibarretxe, Norman Hogue, Toni Cuenca, Curro, Fernando y Joselete de "Mushogitano", Alfredo Paixao, Israel Varela, Ruben Heredia, Pablo Martin Caminero, Juan Peña "El chispa", Ale, Luis y Ali de la Tota, and El Viti.
More at www.jorgepardo.com
Author:
World Music Central News Department
World music news from the editors at World Music Central