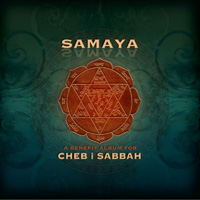 Samaya is a benefit album to help raise money for Cheb i Sabbah's health care costs. Global music pioneer Cheb i Sabbah was diagnosed last year with stage 4 stomach cancer. He was advised that the cancer was spreading to his liver and left lung and that time was not on his side. Like many Americans, Chebiji – as he is affectionately known does not have health insurance. Due to his weak health condition, Chebiji found himself having to cancel live shows, meaning his income stream has come to a complete halt, with mounting medical bills and future medical costs ahead.
Upon learning of his health and economic condition, a few close friends, artists and industry professionals came together to rally around Chebiji to assist him with his fight. Some of global music's finest musicians have gathered to contribute exclusive tracks and remixes to Samaya.
Featured artists on the double album include Ustad Zakir Hussain, Kailash Kher, Pandit G. S. Sachdev, Riffat Sultana & Sukhawat Ali Khan, Nitin Sawhney, Natacha Atlas, Karsh Kale, Bauhaus, Cheb i Sabbah, Transglobal Underground, MIDIval PunditZ, Amina Annabi, Bill Laswell & Gigi, Opium Feat. MC Raï, Mercan Dede, Janaka Selekta, Bombay Dub Orchestra, Azam Ali & Loga Ramin Torkian, Dub Kirtan All Stars Feat. Freq Nasty, David Starfire & Rik Sharaj, Jef Stott, Watcha Clan, Emam & Friends, Jai Uttal. 100% of the net proceeds of the Samaya Benefit Albu will go directly to Cheb i Sabbah's Health Care Treatment Fund.
"It was in May of 2011 when doctors told me that I had stage 4 stomach cancer and it had spread to my left lung and liver," says Cheb i Sabbah. "I was given a less than six months sentence to live. They were wrong in part of their diagnosis; they did not take into account the power of prayers and love from the thousands of friends, fans and families that i received. It is because of your love, prayers and generosity that I am still alive today.
After a major surgery and three months of intensive and painful chemo therapy in Germany, I have opted for phase two, an alternative and more holistic approach to healing in India and the U.S."
You can also help by making a donation directly to Cheb i Sabbah through Sweet Relief. Simply visit the Sweet Relief Artist Page for Cheb i Sabbah and click on the "Donate now" button.
More at www.chebisabbah.com/news-events/cis-samaya-a-benefit-album-for-cheb-i-sabbah
Author:
World Music Central News Department
World music news from the editors at World Music Central