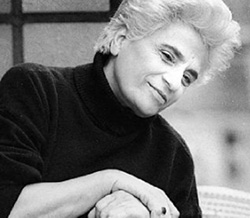 One of the country's leading folk singers, Domna Samiou, passed away late on Saturday, leaving behind an irreplaceable gap in traditional Greek music and culture.
Samiou was born in the Athens neighborhood of Kaisariani, in 1928. Her parents were refugees from Bayrindi, Smyrna. They had fled to Greece in 1922 during the Asia Minor Catastrophe.
She lost her sister and father during the Greek Depression era, and due to extreme poverty, the 13-year-old was taken in as household help by a wealthy Athens family. As a young girl she would often sing the songs her mother taught her while doing the chores. It wasn't long before the mistress of the house sent her to Simon Karas, a leading figure in the documentation and preservation of Byzantine and "demotika" (Greek folk) musical traditions.
Karas, discerning not only her talent but also her thirst for knowledge, became her teacher and mentor and would pave the way for what would later become her lifelong commitment.
Samiou's most important contribution to Greek and World music, is not her vocal talent – a stentorian gift of crystal clarity – but her extensive research and archive of local "demotika" music traditions, which she accumulated first as a radio producer and later as a documentary maker for Greece's Public Broadcaster (ERT).
With a tape recorder over her shoulder she traveled across Greece, stopping in the most isolated of Greek villages in the mainland and islands and during local feasts, celebrations, funerals or over coffee would record the locals as they spoke about the songs they learned from their parents, which they later sang.
"That's how I created my own archive of thousands of songs. I would go to the local coffee shop and ask whether they knew anyone who sang well. Usually the response was 'Kyra Maria sang wonderfully… but she died,'" she had said in a past interview.
Samiou has left behind a legacy of recordings, film archives as well as the "Domna Samiou Folk Music Association", which records, preserves and promotes Greek folk music tradition in its genuine form and which she founded in 1981.
Her dream was to bring traditional groups to Greece from around the world and exchange traditions and insight, but due to lack of funding it never materialized.
Samiou served Greek traditional music for over half a century with undying commitment. She performed everywhere from the tiny villages of Greece nestled in the mountains to the prestigious international festivals across the globe. Her example is one of dedication, determination, constant yearning, learning and love.
Her final words to younger generations: "Money is no motivation, deep love for your art is."