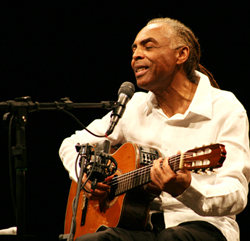 The three-day Back2Black festival will arrive in London this summer as part of the London 2012 Festival, in the first ever iteration outside Brazil. Held over three days at Old Billingsgate on the Thames in East London, the festival is hosted by and features Gilberto Gil. Acts will include: Gilberto Gil; Toumani Diabaté + Arnaldo Antunes + Edgard Scandurra; Roots Manuva; Criolo; Fatoumata Diawara; Marcelo D2; Mart'nalia and Luiz Melodia, with many more to be announced.
Launched in Rio de Janeiro in 2009, the annual Back2Black festival has quickly established itself as one of the foremost cultural events in Brazil attracting over 35,000 visitors to date. The key theme of this curated festival is to promote wider appreciation for black culture in Brazil, by exploring new ways of presenting music and art.
Back2Black aims to entertain, raise awareness, further cultural exchange and rebuild bridges, bringing Brazil back in touch with its African Heritage. This first London Back2Black festival features a strong emphasis on UK-African connections and communities including Afro-Caribbean artists and brings together a heady mix of different traditions and musical genres – including samba, jazz, funk, r&b, blues, rock, reggae, dub and hip hop – all of which have been heavily informed by Africa.
Since its inaugural edition, the Back2Black festival has taken place in the beautiful setting of the disused Leopoldina railway station close to downtown Rio de Janeiro. To recreate a similar setting, the London festival will be held at Old Billingsgate, with three stages and an extensive offering of concerts, debates and exhibitions. The eclectic line-up will feature more than 20 Brazilian, UK and international artists, groups, thinkers and leaders. A large-scale exhibition by Brazilian artist and director Bia Lessa forms the backdrop of the festival. (29 & 30 June & 1 July. Part of the London 2012 Festival)
On 4 July, Gilberto Gil plays the Barbican Hall with the London Symphony Orchestra and conductor Francois-Xavier Roth. The evening features new arrangements of Gil's songs by Jaques Morelenbaum, and music originating from and influenced by Brazil, including works by Heitor Villa-Lobos and Darius Milhaud. (Part of the London 2012 Festival)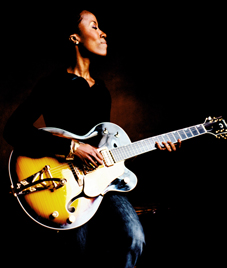 In Desdemona, Rokia Traoré and Toni Morrison, two women of African and African American origin, come together to create a work inspired by an 'invisible' character from one of Shakespeare's most racially charged plays. In response to Peter Sellars' 2009 Othello, Nobel Prize-winning novelist Toni Morrison and Malian singer/songwriter Rokia Traoré collaborate to create an intimate and profound conversation between Shakespeare's Desdemona and her African nurse, Barbary, from beyond the grave. Moving beyond centuries of colonialism and racism, two women share stories, songs and hope for a different future. The actress playing Desdemona will be Tina Benko who performed the role in the production in Paris, Berlin, New York and Berkeley. (19 & 20 July. Part of the World Shakespeare Festival and London 2012 Festival)
Prior to the performances of Desdemona, Rokia Traoré comes to London for three projects in June. Produced by the Barbican, these projects are called Donguili – Donke – Damou (translated as 'Sing – Dance – Dream' from the Malian language, Bambara) and reflect a wide range of new works Rokia Traoré is developing.
Donguili is centered around a collaboration between UK and European musicians who will visit Rokia Traoré's Music Institute in Bamako which works with young emerging musicians. Donke focuses on Rokia Traoré's new album, with award winning producer John Parrish at the helm, and features some of the same musicians in a club gig at Village Underground in Shoreditch. The third project Damou is an intimate acoustic evening of music and traditional Manding storytelling at Wilton's Music Hall. (18, 22 & 23 June. Part of the London 2012 Festival)
For more details on the program and to sign up for information visit www.london2012.com/festival
Author:
World Music Central News Department
World music news from the editors at World Music Central