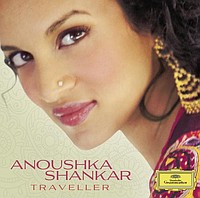 Anoushka Shankar
Traveller (Deutsche Grammophon, USA release: 2012)
Anoushka Shankar's debut recording, Traveller, on the Deutsche Grammophon is a fantastical journey of going forward and back again. Dipping into the relatively new-fangled music form of flamenco, Ms. Shankar explores the ancient connections of flamenco to Indian classical music. Thought to have evolved out of the music of traveling Gypsies from Rajasthan, many flamenco musicians, dancers, scholars and enthusiasts have struck a path to rediscovering this connection.
Ms. Shankar explains her fascination this way, "It was a love of the music that inspired me to make this flamenco album and bring together these two traditions. I've always loved flamenco and had a fascination for it. There's always been that pull towards something I find very similar in flamenco to what I cherish in Indian classical music: a kind of uninhibited musicality in expression, whether it's solo voice, a sitar or a guitar. Of course there were common roots and technical similarities to explore, and when you start to play with those, you can really delve down in very delicious ways. However the desire came from simply being an admirer of the music, and wanting to learn about it through making music."
Traveller producer and guitarist Javier Limon explains it in his own way, "When Anoushka plays pure Indian music, for us she's playing pure flamenco – for all the Gypsies, for Paco [de Lucia] and me, for all of us. When she plays Indian we sometimes say, 'Hey, you play flamenco very well, this is flamenco.' And she always answers 'No, no, no, this was Indian, pure Indian.' The frontier is not clear because many centuries ago, maybe eight, the Gypsies came from Rajasthan and brought a lot from there to the flamenco style, to flamenco music. They created what we know today as flamenco with the Christians and Jews in Spain and with the Arabs. That's why there are a lot of things in common that make our musical forms brothers. Flamenco is very young, about 200 years old. For me, flamenco is like the little brother of Indian music."
It's difficult to not be initially shocked and dazzled by the blend of these two forms; proving that connection in musical terms comes across as seamless on Traveller. Rhythm driven tracks against shimmering curtains of guitar and sitar work and laced with searing vocals thrum with power and passion.
Evocative tracks like "Buleria Con Ricardo," with pianist Pedro Ricardo Miño, Ms. Shankar on sitar and Juan Ruiz on Spanish percussion, or the shockingly explosive title track "Traveller," with Ms. Shankar on sitar, Pirashanna Thevaraja on moorsing, Piraña on Spanish percussion, Tanmoy Bose on tabla and Sanjeef Shankar on shehnai, are simply stunning.
"Boy Meets Girl" with Ms. Shankar's sitar work and Pepe Habichuela on guitar revel in the interplay between these two remarkable musicians. Listeners get some real treats on Traveller with vocals by Shubha Mudgal on "Krishna," Duquende on the wonderfully rich "Si No Pudeo Verla," Sanjeev Chimmalgi and Aditya Prakash on "Ishq" and Concha Buika on "Casi Uno."
Traveller closes with the delicately elegant "Lola's Lullaby" with Ajay Prasanna on flute, Piraña on Spanish percussion and Kenji Ota on tanpura joining Ms. Shankar on sitar.
Traveller is fraught with passions, worked over by sheer mastery and drowning in expansive grace. What a delightful treat!
Author:
TJ Nelson
TJ Nelson is a regular CD reviewer and editor at World Music Central. She is also a fiction writer. Check out her latest book, Chasing Athena's Shadow.
Set in Pineboro, North Carolina, Chasing Athena's Shadow follows the adventures of Grace, an adult literacy teacher, as she seeks to solve a long forgotten family mystery. Her charmingly dysfunctional family is of little help in her quest. Along with her best friends, an attractive Mexican teacher and an amiable gay chef, Grace must find the one fading memory that holds the key to why Grace's great-grandmother, Athena, shot her husband on the courthouse steps in 1931.
Traversing the line between the Old South and New South, Grace will have to dig into the past to uncover Athena's true crime.