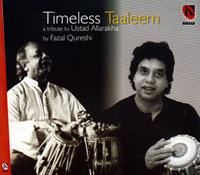 Fazal Qureshi
Timeless Taaleem: A Tribute to Ustad Allarakha (Ninaad Music)
This album is a beautiful tribute to the late great tabla maestro Ustad Allarakha by his son Fazal Qureshi. There are 5 tracks on this album, most of which are solo performances on the tabla along with some of Qureshi's students. A few pieces include percussion chants, and the piece 'Retro Tabla' also has fusion with guitar and drums.
Ustad Allarakha played a pioneering role in bringing the tabla international stature and respect. His work lives on through his countless recordings, and the activities of the Ustad Allarakha Institute of Music. He was a disciple of Mian Qader Baksh of the Punjab Gharana.
Author:
Madanmohan Rao
Madanmohan Rao is an author and media consultant from Bangalore, and global correspondent for world music and jazz for World Music Central and Jazzuality. He has written over 15 books on media, management and culture, and is research director for YourStory Media. Madan was formerly World Music Editor at Rave magazine and RJ at WorldSpace, and can be followed on Twitter at @MadanRao.