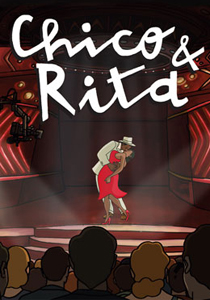 Chico and Rita, an animated movie that celebrates Cuban music and jazz, is nominated for Best Animated Feature Film for the 2012 Academy Awards. This is the first time that an animated feature film from Spain gets this nomination. This selection comes after various prestigious awards, including a Goya (Spain's most important movie awards) and the 18th Stuttgart Festival of Animated Film.
Chico and Rita begins in Cuba in 1948. Chico is a young piano player with big dreams. Rita is a beautiful singer with an extraordinary voice. Music and romantic desire unites them, but their journey – in the tradition of the Latin ballad, the bolero – brings heartache and torment. From Havana to New York, Paris, Hollywood and Las Vegas, two passionate individuals battle impossible odds to unite in music and love.
Oscar-winning director Fernando Trueba (Belle Epoque) and Spain's most famous and successful designer/illustrator Javier Mariscal celebrate their passion for the music and culture of Cuba with an epic story of love and heartbreak. Legendary Cuban composer and arranger Bebo Valdés composed the music.
Author:
World Music Central News Department
World music news from the editors at World Music Central