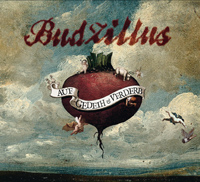 After more than 75 gigs in 11 countries, a raucous sold out party at SO36 in Berlin and more than 100 broken guitar strings last year, Berlin-based Budzillus will be releasing its new album,Auf Gedeih & Verderb (For Better Or For Worse) on March 9th, 2012 on MunkaMunka Records and distributed by Rough Trade.
BudZillus isk known for its energetic mix of swing, surf, punk and an eastern-European sounds. Auf Gedeih & Verderb ("For Better Or For Worse") is not only the name of the new album, but also the motto of the adjoining tour from the quintet who originally formed as a wedding band in 2005, played on the streets for three years, and since 2008 have played over 100 concerts per year to confirm their role as one of the most energetic live bands from the German capital Berlin.
Regardless where they play, whether it be an underground bar or an internationally renowned festival like the Lowlands in Holland, when BudZillus take to the stage with their collection of custom-made patchwork-instruments, crowds burst into euphoric dance moves and concerts crescendo into a collective chant of "Immer weiter, immer weiter…". In the past few years the BudZillus phenomenon has not only conquered Germany but also the rest of Europe, with the band playing abroad as often as at home, also becoming welcome guests in New York and Russia.
BudZillus effortlessly skip boundaries, not only with their non-conformist music, but also with their cryptic lyrical style, which is why they appeal to a wider audience.
The first single will be Nicht Alein (Not Alone) and is available as a free download on their new website www.buzillus.de
Band Members include Robert Kondorosi on vocals, guitar, banjo; Kristian Zepplin on double bass and banjo; Stefan Wolff on organ, harmonica; Thomas Prestinon saxophone, clarinet; and Eric D'Urso on drums.
Author:
World Music Central News Department
World music news from the editors at World Music Central