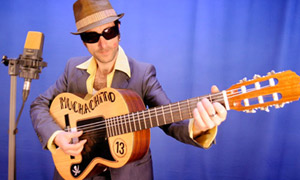 Muchachito Bombo Infierno with Santos De Veracruz is set to perform on March 10, 2012, at 12:00 am at SOB's as part of Flamenco Festival 2012's series titled Flamenco & Beyond.
If ever someone breathed new life into rumba, Spain's irresistible dance rhythm, that someone is Jairo Perera, also known as Muchachito. An edgy singer/songwriter with a knack for reinvention at every turn, Muchachito began his career on the streets of his native Barcelona, singing and playing guitar and passing the hat for money. Today he has become an essential figure in contemporary Spanish music, known for his unique brand of rabble-rousing dance-driven rock.
With hit singles from albums such as Vamos que vamos/Let's Go (2005), Visto lo visto/Saw What Happened (2007) and Idas y vueltas/Comings and Goings (2010), Muchachito has become a veritable force of mature in Spanish music, where most of his performances include a large ensemble.
For his American debut, Muchachito will return to the street-based solo performances of his early years, where he developed his over-the-top showmanship. Accompanying him onstage will be Barcelona artist Santos de Veracruz, who will be creating live artwork onstage to accompany Muchachito's music.
Muchachito Bombo Infierno with Santos De Veracruz
March 10 at 12am
SOB's
204 Varick St
$20 – $22
Ticketweb 866-468-7619
Author:
World Music Central News Department
World music news from the editors at World Music Central