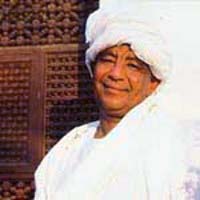 Covered by state television, thousands of fans gathered, along with friends, family and government officials, on Sunday at the Farouk Cemetery in Khartoum, Sudan to mourn the loss of singer, songwriter and musician Mohammed Osman Wardi, who died Saturday, February 18, 2012 in a hospital in Khartoum due to undisclosed kidney problems. Mr. Wardi was 80.
Mohammed Osman Hassan Salih Wardi was born on July 19, 1932 in the small village of Swarda, part of the Nubian region of Sudan. Despite the loss of both parents by the time he was nine years old, Mr. Wardi earned a highly prized education filled with art, music and literature. He began his early professional life as a secondary school teacher before travelling to Khartoum in 1953 to attend a teaching conference. Four years later, Mr. Wardi returned to Khartoum to begin a musical career.
Recording and performing for Omdurman Radio, Mr. Wardi soon found himself collaborating with the likes of Abdelaziz Mohamed Dauod, Osman Hussaein and Ibrahim Awad. Mr. Wardi was promoted to the highest level of professional singer and collaborated with the poet Ismail Hassan to compose more than twenty songs.
Popularly known for his songs of love or Nubian folklore, Mr. Wardi sang in both his native Nubian as well as the Arabic, and played the stringed oud and the Nubian tanbur, as well as a few other instruments. Aligning himself with Sudan's political left and dipping into more politically charged music, Mr. Wardi ended up in jail and would eventually go into exile in 1983 after the imposition of Islamic law by President Gaafar Numeiri. He returned to Sudan in 2003.
Known as "Africa's top singer," Mr. Wardi's career spanned some 60 years and resulted in more than 300 songs. In 2005, Mr. Wardi earned an honorary doctorate from the University of Khartoum and is considered a national treasure in Sudanese music.
Author:
TJ Nelson
TJ Nelson is a regular CD reviewer and editor at World Music Central. She is also a fiction writer. Check out her latest book, Chasing Athena's Shadow.
Set in Pineboro, North Carolina, Chasing Athena's Shadow follows the adventures of Grace, an adult literacy teacher, as she seeks to solve a long forgotten family mystery. Her charmingly dysfunctional family is of little help in her quest. Along with her best friends, an attractive Mexican teacher and an amiable gay chef, Grace must find the one fading memory that holds the key to why Grace's great-grandmother, Athena, shot her husband on the courthouse steps in 1931.
Traversing the line between the Old South and New South, Grace will have to dig into the past to uncover Athena's true crime.