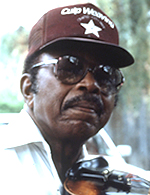 African American, "old time" stringband musician Joe Thompson passed away Monday, February, 21, 2012 due to declining health according to family. He was 93.
Mr. Thompson was born in 1918 and raised along with first cousin, fellow musician and stringband member Odell Thompson in rural North Carolina. Picking up playing the fiddle from his father, Mr. Thompson was soon playing with his cousin at Saturday night dances along with their fathers and would continue to work the dance and party circuit during the 1920s and 1930s as Odell Thompson changed he allegiances to the guitar and the blues.
It was in the early 1970s that there was a resurgence in African American folk traditions and The Thompsons, as the pair was known, was back in business, playing at the National Folk Festival, the Festival of American Fiddle Tues and at Carnegie Hall.
Known for playing standards like "Georgia Buck" and "Hook and Line," Mr. Thompson would go on to record the 2009 release of Family Tradition and another 2009 release entitled Carolina Chocolate Drops & Joe Thompson.
The Thompsons earned a North Carolina Folk Heritage Award in 1991 and Mr. Joe Thompson received an Arts Heritage Fellowship from National Endowment for the Arts in 2007.
Mr. Odell Thompson passed away in 1994.
Funeral arrangements have not been announced for Mr. Joe Thompson.
Author:
TJ Nelson
TJ Nelson is a regular CD reviewer and editor at World Music Central. She is also a fiction writer. Check out her latest book, Chasing Athena's Shadow.
Set in Pineboro, North Carolina, Chasing Athena's Shadow follows the adventures of Grace, an adult literacy teacher, as she seeks to solve a long forgotten family mystery. Her charmingly dysfunctional family is of little help in her quest. Along with her best friends, an attractive Mexican teacher and an amiable gay chef, Grace must find the one fading memory that holds the key to why Grace's great-grandmother, Athena, shot her husband on the courthouse steps in 1931.
Traversing the line between the Old South and New South, Grace will have to dig into the past to uncover Athena's true crime.