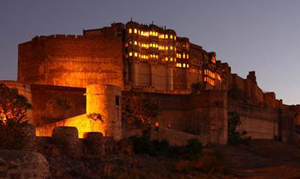 The Indian state of Rajasthan is all set to serenade music aficionados with the 4th edition of the World Sufi Spirit Festival (WSSF) at Nagaur & Jodhpur. The royal family of Jodhpur will play host to some of the leading exponents of Sufi music from across the borders, with the serene Mehrangarh Fort as the backdrop for the very first time.
Helmed by the Mehrangarh Museum Trust, the WSSF will present music lovers its sacred & enchanting brand of Sufi performances. Patronized by internationally renowned artist Sting, the WSSF will also have leading Indian artist Kailash Kher performing at the festival. The World Sufi Spirit Festival will start on 16th February at Nagaur, culminating at Mehrangarh Fort, Jodhpur on the 21st February, 2012.
Sufi artists from across Egypt, Iran, Zanzibar, the Indian Ocean, Pakistan, Tajikistan, and China will come together to perform in Jodhpur along with the traditional Rajasthani folk musicians displaying the rich cultural heritage of Rajasthan. The festival will also host a children musicians' workshop by the The Manganiyars and the Langas – musicians of the desert.
"The World Sufi Spirit Festival, is a humble step towards preserving and encouraging the sacred art of Sufism," said Maharaja Gaj Singh II. "Our endeavor is to create a huge platform for national and international Sufi exponents to come together and create an extraordinary enriching experience for one and all. We look forward to showcasing the talent of our versatile folk performers at the beautiful and legendary Mehrangarh Fort."
The Indian performers include Kailash Kher, The Nayiks, Sonam Kalra, Kalakar Children, Mehardeen Khan, Sher Khan, the Rajasthan Langa Troup, Darbar Morchang Party and the Teratali dancers & singers.
The international artists featured are Wang Li, China; Fareed Ayyaz & Party, Pakistan; Tanourah Sufi Dance, Egypt; Vahdat sisters, Iran; Mtendeni Maulid Ensemble, Zanzibar; The Musicians of The Nile and Deba ritual from Mayotte, Africa.
Patron of the festival, international singer Sting added, "We are spirits in a material world… Join the Sufi Spirit World Festival at Nagaur-Jodhpur and experience the magic. This is a wonderful opportunity for India to combine its spiritual heritage with the beauty of sacred music and dance."
"It gives me great pleasure to be associated with the World Sufi Spirit Festival," said Alain Weber, artistic director. "I can only imagine the grandeur of the event amidst such an exquisite venue. I applaud the Mehrangarh Museum Trust for their initiatives to promote the rich heritage of this wonderful country."
Open to all, the Mehrangarh Fort, will bring forth Sufi traditions from the Indian Ocean with the rituals of Mayotte and of famous Zanzibar; poets and singers from Iran, drums from deepest Africa, singing from the nomadic steppes of Mongolia, Jew's harps from China, Sufi singing and dances from the Nile.
Author:
World Music Central News Department
World music news from the editors at World Music Central