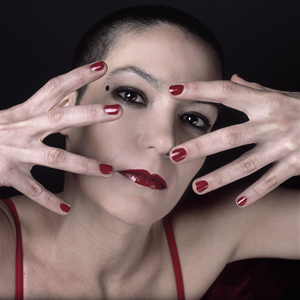 Spanish vocalist and dancer La Shica is scheduled to perform on March 8, 8:00 pm at Le Poisson Rouge as part of Flamenco Festival 2012's series titled Flamenco & Beyond.
La Shica (meaning 'the girl,' real name: Elsa Rovayo) is a bold and sensual performer who has succeeded in thoroughly seducing audiences and critics alike in Spain with her two CDs, "Trabajito de chinos" (2008) and "Supercop" (2010). Her riveting onstage presence merges dance and song, reflecting a multicultural and multi-generational mix of influences. La Shica's approach to flamenco pulls from the depths of Spain's deep copla tradition and restructures it within a modern Madrid soundscape, incorporating rock, funk, hiphop, and even bossa nova.
La Shica is the recipient of two Premios de la Música awards (Spain's version of the Grammys) for "Best New Artist" and "Best New Songwriter" in 2011. New Yorkers will now have a chance to see her unique live show, one that fuses her passion for Spanish dance (she studied with Merche Esmeralda and Belen Maya, among others) with an equally dramatic re-shaping of flamenco song.
La Shica
March 8, 8pm
Le Poisson Rouge
158 Bleecker St
$15-$18
TicketCentral 212:353-3474
Author:
Reinholds Zviedris