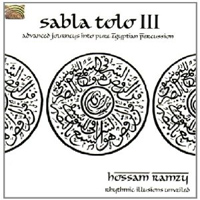 Hossam Ramzy
Sabla Tolo III (Arc Music, 2008)
Number of tracks: 13
Duration: 51:43 minutes
Prolific Egyptian percussionist Hossam Ramzy has a string of successful albums to his credit. See my earlier interview with him at the time of the release of his album 'Rock The Tabla' (https://worldmusiccentral.org/2011/08/14/hossam-ramzy-discusses-the-sensational-rock-the-tabla/).
One of his outstanding CDs is Sabla Tolo III, the third in a series of percussion albums focusing on variations of tabla music forms (the title of the series is a clever play on "Tabla Solo"!). The album consists of rhythmic compositions of Egyptian tabla solos with full percussion arrangements for Oriental dance, spanning a wide array of Egyptian and other Middle Eastern rhythms. The series showcases Hossam Ramzy's skills as a performer, arranger and composer. As musical influences, Hossam cites Ahmed Hammouda, who popularised drum solos in the 1970s.
The album begins in fine style with Saraab Iqaay [Rhythmic Illusion], with varying textures and dialogues between the percussion instruments and a mix of 6/8 and 4/4 rhythms. Some of the tracks have a few instruments featured (eg. Khamsa W'khmesa [The Hand of Fatma] and Al Finjal [The Coffee Cup]), others have a breathtaking range (Serr Makshoof [A Secret Exposed]).
The album ends in a fine crescendo with the aptly named Reeh el Sahara [Desert Wind]. Indeed, Hossam signs off in the liner notes with the equally apt salutation, "With Lots of Rhythm"!
Each track in this album is high-energy, and will leave your feet tapping and fingers snapping. The album series has been hailed for being "technical and yet catchy," "to be listened to for pleasure and as an instructional item." The album will also appeal to bellydancers, and Hossam Ramzy has another line of albums focusing specifically on bellydance forms in Lebanon, Egypt, and other countries and communities in the Middle East.
The accompanying booklet has explanations to each of the pieces in four languages (English, Spanish, French, German), with rhythms, numbers of bars, and notation. The label's Web site also has a downloadable free 13-page PDF on rhythmic notations of each of the album tracks, a treat for percussionists.
For instance, the rhythms in Serr Maktoub [Written Secret] are Fallahy, Saaidi, Malfuf, Masmoudi and Karatchi. The track Tas-Ifa-Ommal [No Clapping for Me or What?] also features clapping. "The name of this song is taken from the street and circus clowns. They always ask their audiences to clap for them," Hossam Ramzy jokes in the liner notes. Hossam has even created a rhythm called "Reggae Arabia" in the track Rasta Baladi.
Hossam Ramzy was born in Cairo, Egypt. His musical career began early, when at the age of three he was given his first drum, an Egyptian Tabla. Hossam was encouraged to master the Egyptian drums and he studied under leading Cairo music teachers. A move to Saudi Arabia led him to collaborating with many Bedouin tribes which provided a rich insight into the cultural origins of Middle Eastern music and became the inspiration for many of his later rhythmic directions.
In the mid 1970s Hossam went to England, and enjoyed success as a drummer working with jazz musicians like Andy Sheperd and Geoff Williams. His musical journey then turned full circle to his first love, the Egyptian drums. He has recorded dozens of albums, many of which have been sampled in re-mixes for dancefloors. Hossam has collaborated with a range of international musicians: Yesim Salkim, Celick Erici, Cheb Khaled, Tarkan, Rachid Taha, Faudel, The Gypsy Kings as well as Robert Plant and Jimmy Page (on their reunion album 'No Quarter – Unledded').
The musician himself has a comprehensive Web site at http://hossamramzy.com with updates on tours and workshops. In future reviews we will dig into some of his other albums such as "Flamenco Arabe 2" and "From Cairo to Sao Paulo."
Track Listing
1. Saraab Iqaay
2. Serr Maktoub
3. Nady Ala Alqabayel
4. El Shallal
5. Tas-Ifa-Ommal?
6. Groove Sanctuary
7. Khamsa W'Khmesa
8. Rasta Baladi
9. Wuh Ya Booy
10. Al Finjal
11. Bosat El Reeh / Mel Qahira Le Baghdad
12. Serr Makshoof
13. Reeh El Sahara
Author:
Madanmohan Rao
Madanmohan Rao is an author and media consultant from Bangalore, and global correspondent for world music and jazz for World Music Central and Jazzuality. He has written over 15 books on media, management and culture, and is research director for YourStory Media. Madan was formerly World Music Editor at Rave magazine and RJ at WorldSpace, and can be followed on Twitter at @MadanRao.