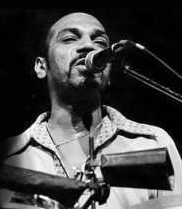 Jaime Sabater Sr., better known as Jimmy Sabater died in New York City on February 8th, 2012. Jimmy Sabater was a legendary Latin music vocalist and timbales player.
Jaime Sabater was born in New York City on April 11th, 1936 of Puerto Rican Ancestry. He was a legend in Latin music history due to his English language crossover and his "suave" type of romantic English or Spanish-language singing style.
Jimmy Sabater had a unique style of playing timbales, creating excitement with every stroke of his sticks. He performed with the famous Joe Cuba Sextet for many years until 1979.
Jimmy Sabater also worked with many New York City legends, including Tito Puente. Jimmy Sabater will be greatly missed for his invaluable contribution to Latin music and Latin music history!
Author:
Les Moncada
Les Moncada is a Latin Jazz orchestra leader and conguero for over 40 years. He was born in Oakland, California and currently resides in Sacramento, California.
Les Moncada is a student of conga and batá master Francisco Aguabella, a friend of the late promoter Bill Graham, vibraphonist Cal Tjader, Latin Jazz band leader Pete Escovedo, conguero Mongo Santamaria and many, many more.
He has been writing for many years for World Music Central.
Les has several Facebook sites: Timbales and Congas Bongo Bata & bells; Conguero, Professional Conguero & their Instrument; Bongocero, Professional Bongocero their Instrument; Alambres Dulces, Tres, Cuatro & Laud