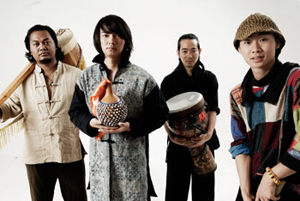 Indie folk band Shanren is using crowdfunding launchpad RocketHub to offer a personal experience for both audiences and fans of the band on their first North American tour this March. With a goal of raising $5000, the four-member ethnic rock band whose members hail from southwestern China isn't just accepting donations, they're planning to give back to the fans as well.
Beijing-based Shanren will be sharing the culture of Yunnan, an area thought to have inspired the Shangri-La of Hilton's classic novel, Lost Horizon. Incentives for music fans range from limited-edition signed CDs and handmade ethnic instruments to private music lessons and even a dinner party with the band. The crowdfunding campaign will not only help make the tour a financial success, but will also create a genuinely interactive cultural experience for fans and audiences.
"Shanren sees this tour as an exchange – it's about both sides being rewarded," noted Shanren's manager Sam Debell. "The band doesn't just want to plays shows – they are creating an opportunity for fans to have a real connection with their culture through the rewards they've developed. They're using the internet and crowd-funding to make the tour a financial success, and also to bond with the fans beyond the performance, especially Chinese ex-patriots and students. Shanren is going the extra mile to say thanks to their supporters, and it's not just a gimmick – this is something that they are doing from their hearts."
Shanren have been selected to appear at the Slacker Canadian Music Fest (the Slacker Radio-sponsored 30th edition of Canadian Music Week), which will be held in Toronto in March 2012 with 900 artists spread across 60 venues. The festival appearances will anchor their first North American tour that will launch at New York's Pianos on March 6th and include performances in Brooklyn (New York), Philadelphia, Staten Island (New York), Hamden (Connecticut), Pittsfield (Massachusetts), Arlington (Virginia), and Asbury Park (New Jersey).
Emerging from southwestern China, Shanren (山人, literally "mountain men"), is a group of four musicians with members representing the Wa and Buyi ethnic minorities. Shanren employs instruments like the xiangzi and qinqin (four-stringed plucked instruments) and xianggu (a type of drum). They play both original compositions and reworkings of traditional folk songs, adding touches of rock, reggae, and ska. While the band members preserve their cultural heritage, they update it for a 21st-century audience.
Shanren RocketHub Crowfunding Campaign
rockethub.com/projects/5431-shanren-tour-shangri-la-to-north-america
Music: myspace.com/shanrenband
Author:
World Music Central News Department
World music news from the editors at World Music Central