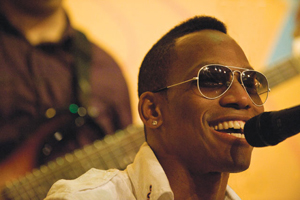 The World to Brooklyn, a new series showcasing vibrant artists from different cultures in an exciting new venue in downtown Brooklyn, continues on February 11th with one of Cuba's hottest exports— singer and percussion phenomenon Pedrito Martinez. With his piercing voice, virile dance moves, and unparalleled drumming skills, this Theolonious Monk Competition-winner has been hailed as "an incomparable performer" by the New York Times. His group – one of New York's most popular Afro-Cuban bands – features percussionist Jhair Sala, from Lima, Peru; electric bassist Alvaro Benavides, from Caracas, Venezuela; and keyboard player/vocalist Araicne Trujillo, from Havana, Cuba.
The concert begins with Pedrito playing the orisha rhythms of santería on batá drums, with special guests Román Díaz and Mauricio Herrera, and ends on the dance floor with Pedrito and his band feverishly delivering their distinct, funky brand of salsa. Preceding the concert there will be a dance lesson; following the show there will be an after-party with DJ David Medina.
Pedro Pablo "Pedrito" Martinez, born in Havana, Cuba, began his musical career at the age of 11, performing as vocalist and percussionist with such Cuban legends as Tata Güines and Los Muñequitos de Matanzas.
He was brought to Canada in 1998, by Jane Bunnett to tour with her group, Spirits of Havana, and decided to remain in North America to pursue his career. Two years later, he entered the annual Theolonious Monk Competition that showcased Afro-Latin Hand Drumming for the first time – and won first place.
Since settling in New York in 2000, he has performed, recorded, and/or toured with Paquito D'Rivera, Brian Lynch, Steve Turre, Meshell Ndegeocello, Eddie Palmieri, Bill Summers and Los Hombres Calientes, Arturo "Chico" O'Farrill, Stefon Harris, Bebo Valdés, Cassandra Wilson, Joe Lovano, The Conga Kings, and Sting, among others.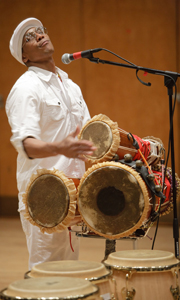 Pedro was featured in 2000 in Calle 54, the documentary film on Cuban music. He was also a member of the highly successful Afro-Cuban/Afrobeat band Yerba Buena with which he recorded two albums and toured the world opening for the Dave Matthews Band, Willie Nelson and Ray Charles.
He has lent his talents to over 100 recordings, including albums by Paquito d'Rivera, Issac Delgado, Eliane Elias, Stefon Harris, Steve Turre, Eddie Palmieri, Gonzalo Rubalcaba, Conrad Herwig, and Edie Brickell. These include six Grammy-nominated records and the Grammy-winning Simpatico collaboration between Eddie Palmieri and Brian Lynch. His group performs regularly at Manhattan's Guantanamera and released a live album recorded there.
The series continues with Morocco to Brooklyn, a 2-part program featuring the extraordinary Hassan Hakmoun, performing acrobatic dances and ecstatic music from Gnawa trance ceremonies, and Malika Zarra, a pioneer in Maghreb jazz (Apr 14).
These programs are made possible in part with public support provided by the New York State Council on the Arts, a State agency, and the New York City Department of Cultural Affairs, in partnership with the City Council.
Saturday, February 11th, 2012 – 8:00 PM
Roulette, 509 Atlantic Avenue (corner of 3rd Avenue), Downtown Brooklyn
+Dance lesson prior to concert &
after-party with DJ David Medina following show
Tickets: $25
Information: 212-545-7536
http://www.wminyc.org
Author:
World Music Central News Department
World music news from the editors at World Music Central